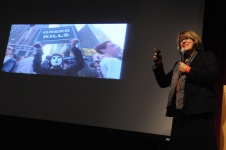 Art and Politics Now Cultural Activism in a Time of Crisis
During the year of my grant with Puffin, I have given 20 presentations and organized several interactive conversations with local social justice groups. I have donated my book to five #Occupy groups and discussed the idea of art and politics with them. I have reached out to groups like Physicians for Social Responsibility supporting and encouraging their use of art to further their concerns.
I have written about the use of art in exhibitions organized by Witnesses for Peace about Colombia and the disappeared. I am also working with the group Justseeds to organize an exhibition of work by the Iraq Veterans for Peace on PTSD. My final trip supported by the grant will be to visit the maquilladora factories in Mexico at the end of April.
I am very grateful to the Puffin Foundation for their support. My work will be ongoing once the grant has expired. It has inspired my work and my efforts to connect artists and social justice activists.