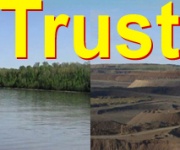 Trust
Trust is a feature-length documentary film about a coalition of Native and non-native activists working across state boundaries to protect indigenous treaty rights and the Great Lakes from an expanding hard-rock mining industry. While many films have explored the problems associated with mining in individual communities, Trust will examine the issue with a regional perspective focused on the Great Lakes. The film also explores the corporate manipulation of the democratic process by the mining industry that results in legislation that favors mining, how Native and rural communities are disproportionately affected by the negative impacts of mining, and how treaty rights can be used to better protect our local environments.
Fourteen active mines and at least 31 exploration sites currently operate in the Michigan, Wisconsin and Minnesota portions of the Great Lakes watershed. Thirty-nine of these sites operate in territory that should be protected by existing peace treaties between the U.S. and the region's indigenous nations. These operations are affecting the population physically and economically. Trust will connect the science, the economics, the politics and the people as we interweave multiple stories to reveal the cumulative impact of mining on the people and waters of the Great Lakes.
Our goal is to increase public understanding of these issues and thereby provoke a national response. Our hope is that this response will lead to an increased voice for indigenous and rural communities, a more transparent political process, and increased demand for the protection of the Great Lakes.
Additional Emails: ">