Foundation News & Blog
Posted in

News
The Next Generation of Southern Organizing
By providing a playbook for young organizers, Southerners on New Ground encourages college students not simply to stay involved, but to see themselves as leaders in the fight for a more just South.
By Robin Happel



Members of Southerners on New Ground and Black Youth Project 100 during a Black Mamas Bail Out Action in Durham, North Carolina, May 10, 2018. (Photo by Kelly Creedon)

Just over the mountains from Morristown, Tennessee, activists last April crashed a police picnic in Hendersonville to protest their city's complicity with ICE. Bringing a brass band, organizers chanted, "¡El pueblo, unido, jamás será vencido!" Singing together, dozens of protesters disrupted the picnic until police disbanded the protest.



Renewed resistance in the South and Appalachia has taken many outside the region by surprise. Far from simply a fringe movement, calls to end ICE's abuses are gaining momentum, even within such perceived conservative strongholds. This sea change is driven in large part by community organizers like Southerners on New Ground (SONG), an Atlanta-based organization defending the rights of LGBTQ+ people of color in the rural South. To SONG and its sister groups across the South, silence is complicity. Letting ICE picnic in peace is not an option, so long as so many others are forced to live in fear. Read Full article here.
Posted in

News
Overfishing, hunting and pollution are putting pressure on the birds, but climate change may prove to be the biggest challenge.



Hedinn Jonasson, a hunter, with his catch of puffins on Lundley Island.

By JOHN SCHWARTZ
Photographs and video by JOSH HANER
AUG. 29, 2018

GRIMSEY ISLAND, Iceland — Puffins are in trouble.

The birds have been in precipitous decline, especially since the 2000s, both in Iceland and across many of their Atlantic habitats. The potential culprits are many: fickle prey, overfishing, pollution. Scientists say that climate change is another underlying factor that is diminishing food supplies and is likely to become more important over time. And the fact that puffins are tasty, and thus hunted as game here, hardly helps.

Annette Fayet is trying to solve the mystery of the dwindling Atlantic puffins, and that is why she was reaching shoulder deep into a burrow here last month. She gently drew a puffin out, having snagged its leg with a thick wire she had curved into a shepherd's crook. As she brought the croaking seabird into the light, it defecated copiously on her pants, which were, thanks to her long experience with birds, waterproof.

"Wow, science!" she said, and smiled. Ideally, this bird, with its tuxedo-like black-and-white plumage and clownish orange beak, would have voided its bowels into a stainless steel bowl she calls the "puffin toilet." She took a flat wooden spoon out of its wrapper, scraped the mess up and placed it in a vial for analysis; she wants to know what these birds have been eating.

Though some puffin colonies are prospering, in Iceland, where the largest population of Atlantic puffins is found, their numbers have dropped from roughly seven million individuals to about 5.4 million. Since 2015, the birds have been listed as "vulnerable" by the International Union for Conservation of Nature, meaning they face a high risk of extinction in the wild.

The birds are cherished by Icelanders as part of their history, culture and tourist trade — and, for some, their cuisine. "The puffin is the most common bird in Iceland," said Erpur Snaer Hansen, acting director of the South Iceland Nature Research Center. "It's also the most hunted one."

[Read more: In Iceland, Vikings razed the forests long ago. Can the country regrow them?]

Hunters with long nets can be seen tooling around Grimsey Island in the summer, leaving behind piles of bird carcasses, the breast meat stripped away. Iceland has restricted the annual harvest, but hunting "is accelerating the decline," Dr. Hansen said.

Dr. Hansen is working with Dr. Fayet on her project, which involves monitoring the activities of four puffin colonies, two in Iceland and others in Wales and Norway. Since 2010, he also has conducted a census, a twice-yearly "puffin rally" in which he travels more than 3,100 miles around Iceland, visiting some 700 marked burrows in 12 colonies, counting eggs and chicks.

During a recent stop at Lundey Island, Iceland, Dr. Hansen encountered jovial hunters who had killed hundreds of the birds and were carrying them toward their boats to be sold to restaurants that mainly serve the meat to curious tourists.

Dr. Hansen maintains an amicable relationship with hunters and uses data from 138 years of hunting club records in his research. He convinced these hunters to let his assistant photograph the head of every puffin; the bands on their beaks can be counted to determine the birds' age.

On Grimsey, a northern island that pokes above the Arctic Circle, gulls and arctic terns swirled in the cloudy sky and the wind at the cliffs blew at 40 miles per hour or more as Dr. Fayet and Dr. Hansen did their work. Dr. Fayet wears contact lenses, and the grit was a torment. There were ticks, so many ticks. Wow, science.

There were also counterbalancing pleasures; Dr. Hansen, a gifted cook, roasted a leg of lamb for dinner with garlic and thyme, and he brought along a couple of bottles of excellent single-malt whiskey, one of his non-avian fascinations.

After dinner, the two scientists worked into the bright Arctic night, ultimately catching, examining and releasing a dozen birds in their two-day stay on this island. Between captures, Dr. Fayet leaned on a rock, staring intently at a cliff face. Suddenly she leapt up and ran at startling speed across the uneven soil some 150 feet to the cliff, crouching in front of the one hole among many that she saw a bird jet into.

Dr. Hansen moved from burrow to burrow, looking a little like a spaceman with his white visor clamped over his eyes. He snaked a camera on a flexible stalk inside for a look around. "Oh, yeah," he said, having spotted a live, downy chick.

After extracting a bird, they slid it into a plastic tube that oddly enough kept it calm, and weighed it. Dr. Hansen attached a steel identifying band to the bird's leg. Then they removed it from the tube and attached a tiny GPS tracker to its back, between the wings, with marine tape.

In the week until the lightweight devices drop off, they show how far the birds fly for their food and how deep they dive for it. Each tracker costs more than $800, which means the case containing them was worth more than the battered truck the researchers were driving.

Dr. Fayet plucked five feathers for later DNA analysis to determine the bird's sex. For identification from afar, she used a marker to put a stroke of blue on its breast and white correction fluid to put a dot atop the black feathers on its head. "Sorry, baby," she said softly, and returned the puffin to its burrow, where it will no doubt retell the story for years to come about its abduction by aliens during the summer of the tags and tape.

Around Iceland, the puffins have suffered because of the decline of their favorite food, silvery sand eels, which dangle from the parents' beaks as they bring them to their young. That collapse correlates to a rise in sea surface temperatures that Dr. Hansen has been monitoring for years.

The temperature of waters around the country is governed by long-term cycles of what is known as the Atlantic Multidecadal Oscillation, with periods of colder water alternating with warmer. Between the 1965-1995 cold cycle and the current warm cycle, Dr. Hansen said, winter temperature records show about one degree Celsius of additional warming — a seemingly small amount, but disastrous for the sand eels. His theory, he said, is this: "If you increase temperatures one degree, you're changing their growth rates and their ability to survive the winter," he said.

Aevar Petersen, an Icelandic ornithologist not involved with the project, said an increase in sea temperature brought about by climate change was "the key environmental factor" behind the sand eels' decline.

The picture is complicated; the natural cycles make it difficult to disentangle the influence of climate change. That influence is "much weaker in the subpolar North Atlantic, especially near Iceland," said Rong Zhang, a senior scientist with the National Oceanic and Atmospheric Administration's Geophysical Fluid Dynamics Laboratory.

Still, climate change's imprint is increasingly evident, said Andrew Dessler, a climate scientist at Texas A&M University. "There will come a time when climate change is vastly greater than internal variability," he said.

Without as many sand eels in the water, the birds have to fly farther to find food for themselves and their chicks. So the data from the GPS loggers, however briefly transmitted, is of great interest. As Dr. Fayet sat at her computer on Grimsey, her colleagues in Norway sent the first data from their work the week before, and her screen filled with looping paths of foraging birds. "Because this is the first time this is being done, we have no expectations," she said. "Everything we get is exciting."

Even thrilling data can contain a sad message. "Everywhere, they are going further than we thought," she said. The colonies' decline suggests these birds are working too hard for their supper. "Flying, for puffins, is very demanding," she said. "It is a big energy cost for them."

Dr. Hansen's puffin rallies show that 40 percent of the population of Icelandic puffin chicks is losing body mass over time, another bad sign.

When the adults can't catch enough to feed themselves and the chicks, they make an instinctive Malthusian choice; the chicks starve. Dr. Fayet called her quest "heartbreaking": "You put your hand in the burrow and feel with your hand a little ball on the floor, but then you realize it's cold, and not moving."

There are still millions of Atlantic puffins, but their plentiful colonies are deceiving, Dr. Hansen said. "These birds are long lived, so you don't just see them plummeting down," he said. In the long run, he warned, "It's not sustainable."

Full article with pictures: https://www.nytimes.com/interactive/2018/08/29/climate/puffins-dwindling-iceland.html
Posted in

News
Puffin is a proud supporter of the non-partisan voter registration and education work undertaken by the Andrew Goodman Foundation.  You can learn more about an important victory for student voting rights in Florida in this Washington Post story here.
Posted in

News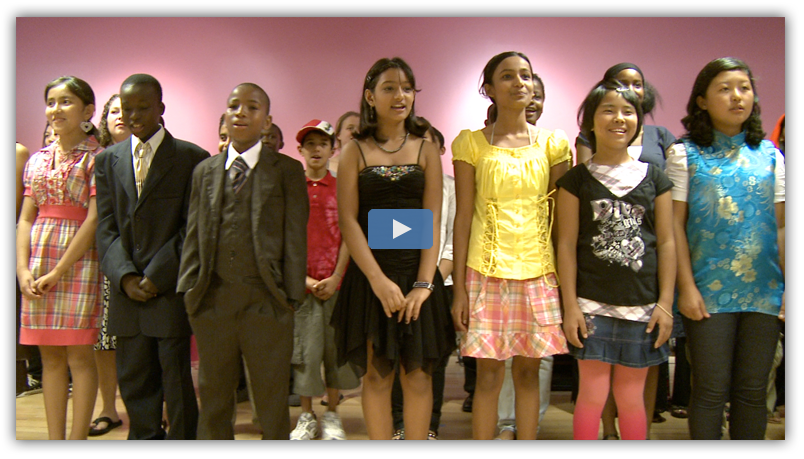 Refugee kids have been in the news a lot recently. Tune in to PBS to check out this short documentary supported by The Puffin Foundation that follows students at a New York City summer program for children seeking asylum from the world's most volatile conflicts.
Mark your calendars! Refugee Kids will be broadcast on WNET Channel Thirteen at Saturday, June 16th at 1pm, repeating on June 17th at 4:50am and again on June 22nd at 4:30am
Posted in

News
New York, the Global Capital of Protest
Suffragists in New York City promoting a voting rights conference.CreditBettmann, via Getty Images By Sam Roberts

May 16, 2018
The aphorism "You can't fight City Hall" was refuted in New York as far back as the mid-17th century after William Kieft, the new director general of New Netherland, banned smoking.

Kieft, who was later lampooned by Washington Irving in his satirical history as "William the Testy," considered the tobacco habit a waste of time and money and a bane to the morals of his constituents.

But the pipe, as Irving wrote, "was the great organ of reflection and deliberation of the New Netherlander," and Kieft's antismoking edict sparked a popular commotion.

"A vast multitude, armed with pipes and tobacco-boxes, and an immense supply of ammunition," as Irving described it, "sat themselves down before the governor's house, and fell to smoking with tremendous violence."

Kieft relented, setting a precedent that would inspire nearly four centuries of dissent, which Steven H. Jaffe, a curator and historian, reconstructs in "Activist New York: A History of People, Protest and Politics" (New York University Press), an illustrated companion to an exhibition at the Museum of the City of New York.

Mr. Jaffe incontrovertibly establishes New York as "the capital city of social activism" by recounting a litany of provocative flash points, including the Flushing Remonstrance, the Zenger trial, the Stamp Act, slavery, immigration, slums, pay and safety standards for factory workers, women's suffrage, the Red Scare, Prohibition, the Cold War, school integration, civil rights, nuclear disarmament, feminism, gay rights, Occupy Wall Street and racial profiling by law enforcement. "Activism is what happens when ordinary people mobilize in hopes of shaping their society's future through collective public action," Mr. Jaffe writes — action that evolved from the handwritten appeal for religious tolerance on behalf of the Quakers in Flushing, Queens, to which a ship from Amsterdam would take months to deliver a response, to the instantaneous, galvanic impact of social media.

Professor Eric Foner of Columbia University reminds readers in his foreword that while most people either romanticize or don't remember where the nation's roots germinated, "many ideas assumed to be timeless features of American culture originated with radical movements."

. Philip Ashforth Coppola's four decades of pen-and-ink drawings that fill six self-published volumes have been condensed by two filmmakers, Ezra Bookstein and Jeremy Workman, into a nightstand-size book. Despite its two dimensions, Mr. Coppola's vibrant and evocative underground art, accompanied by brief explication, leaps off the pages.

Philip Ashforth Coppola's four decades of pen-and-ink drawings that fill six self-published volumes have been condensed by two filmmakers, Ezra Bookstein and Jeremy Workman, into a nightstand-size book. Despite its two dimensions, Mr. Coppola's vibrant and evocative underground art, accompanied by brief explication, leaps off the pages.

"One-Track Mind: Drawing the New York Subway" (Princeton Architectural Press) is the perfect companion for preoccupied New Yorkers who overlook the faiences, terra-cotta mosaics and other gewgaws originally inspired by the City Beautiful movement, and nowadays a productive diversion for riders impatiently awaiting overdue trains.

Mr. Coppola, a printing pressman from New Jersey, set out in 1978 to document the artistry of the New York City subway system in line drawings; he still has a long way to go.

In his foreword, the novelist Jonathan Lethem describes Mr. Coppola as the polar opposite of a graffiti vandal. Instead, Mr. Lethem explains, as the subway speaks in its mythic voice, Mr. Coppola "is the voice's greatest listener."

Mr. Lethem marvels at "New York's capacity to persistently disgorge secrets hidden in plain sight, lost histories in ruins and still a part of the (barely) functioning infrastructure," and which, he writes, "most people only complain about of silently endure."

The book's editors have also filmed a documentary of the same name, which, with the author's drawings, will be exhibited at the New York Transit Museum annex at Grand Central Terminal through June 24.

Mr. Coppola, who is 70, has reproduced about 110 stations on paper since he started. He's still working nights and weekends to preserve the other 362.
Posted in

News

The Puffin Foundation is proud to sponsor this year's Clara Lemlich Awards at the Puffin Gallery for Social Activism at the Museum of the City of New York.

"I've Got Something to Say" – The Lemlich Awards – will celebrate five amazing women (bios below) who qualify as unsung heroines for their lifelong commitment to social activism. An award for giving, with a poem and a rose for the swag, the recipients are sometimes surprised there is such an honor. The event will begin with a reception at 6:30 pm and the program will begin at 7:15 pm.

The Lemlich Awards honor women who have been working for the larger good their entire lives, in the tradition of those who sparked so many reforms in the aftermath of the Triangle Shirtwaist Factory Fire over one hundred years ago.

We honor—in the words of the poet Marge Piercy—people who:

jump into work head first
without dallying in the shadows…
who do what has to be done, again and again.

Hosted by the Puffin Gallery for Social Activism at the Museum, created by LaborArts and the Remember the Triangle Fire Coalition, the Lemlich Awards have celebrated women who have dedicated themselves to improving the lives of others. Watch video of past honorees.
The program will include rousing performances from the New York City Labor Chorus.
RSVP by emailing info@LaborArts.org.

2018 Clara Lemlich Awards Honorees

Doreen Wohl
Born into a Quaker family in England, she came to the United States with American Friends Service Committee to work with migratory farmworkers. Wohl worked with settlement houses in NYC, and then for 20+ years with West Side Coalition Against Hunger, transforming it into a participatory cooperative with customer volunteers, supermarket style food selection, and a chef-training program. She will introduced by Sasha Matthews.

Alix Kate Shulman
Writer and activist in the civil-rights, anti-war, and radical feminist movements, she was active in CORE's 7-Arts Chapter in the 1960s, and continues to organize, recently helping to form Great Ape-Snake War's four Feminist General Assemblies. A prolific author, her books include To the Barricades: The Anarchist Life of Emma Goldman and the feminist classic novel Memoirs of an Ex-Prom Queen, and she is currently co-editing an anthology of writing about the women's movement 1963-1991. She will be introduced by Tanya Beltram.

Evelyn Jones Rich
Advocate and activist around a range of issues including civil rights, education, school funding, health care and aging; former NYC teacher, principal, (associate) Dean (Hunter, CUNY); mentor and role model for women – young and older! She will be introduced by Natasha Griffith.

Mirene Ghossein
Writer, advocate, and translator, she was born in Beirut, Lebanon in 1935, and earned an MA degree in Philosophy from The Lebanese Academy and a PhD in Comparative Literature from Columbia University. At age 17, she started working with a Lebanese group whose goal was "to do something for those who can't do anything for themselves." She continues that effort today with organizations like the WESPAC Foundation, a Peace and Justice Organization, and Alwan for the Arts (Arab-American Cultural organization). She will introduced by Kayhan Irani.

Anne Cunningham
Activist on women's, civil rights, housing and aging issues, she helped found one of the first battered women's shelter in Brooklyn, and was president of the first chapter of NOW on Staten Island. More recently a housing activist on the Upper West Side, she continues to give housing rights workshops and advocate for low-income tenants every week. She will be introduced by Manhattan Borough President Gale Brewer.
Start
Prev
1
2
3
4
5
6
7
8
9
10
Next
End