Grants Info
Update 9/13/23
What is the timeline for 2024 applications?
9/15/23-12/1/23 – Request period for access to the online portal
During this time frame, you may request a form from us by mail. Put a self addressed stamped envelope (SASE  #10 Business Envelopes, 4 1/8″ x 9 1/2″) in another envelope and mail this to us at the address below. You don't need to include anything except the SASE, but make sure to put "Application Request" on the outer envelope.
The Puffin Foundation, Ltd.
Application Request
20 Puffin Way
Teaneck, NJ 07666
All requests must be postmarked no later than Friday, December 1, 2023.
We will use the SASE to send you a request form. Fill out that form and send it back to us if you would like to apply for a grant.
12/15/23 – Deadline for completed request forms to be returned to our office
All completed request forms must be postmarked no later than Friday, December 15, 2023.
Upon receipt and approval of the form, we will open an account for you in our online portal. You will be sent an email with instructions. Keep an eye out for it! It will come from "."
1/5/24 – Deadline for online submission of project proposals
Project proposals (grant requests) must be submitted via our online portal by 4:59 PM EST on Friday, January 5, 2024. The portal will close at 5:00 PM EST. No submissions will be accepted after this time.
Please note that we do not email any request forms, nor do we accept the completed forms by email. We have found that making these forms available electronically leads to a large number of submissions that do not meet our criteria. This creates an administrative burden that diminishes our ability to respond to stronger applications. If you are not in the US or for other reasons can't easily receive or send letters by mail, we suggest that you ask a friend, colleague, or family member in the US to submit the request on your behalf.
Update 7/31/23
Hello!
You may have been wondering if the proposal you submitted to The Puffin Foundation was still under consideration. Rest assured that it is, and that the delay in our review process does not decrease the likelihood of your receiving an award from us. We apologize for the fact that we have not yet been able to render a decision on some of the applications we received, but we are steadily working through the remaining ones and will be getting back to you within a few weeks.
Update 6/1/23
2023 grantees can expect to receive a determination email from us by 7/31/23. If you do not hear back by that time please feel free to call or email to enquire about the status of your application.
2024 timelines are still being determined. We intend to fund fine arts, photography, music, and arts-activism related environmental projects. Please check back in late summer/early fall for updated deadlines and application instructions.
Update 1/1/23
Happy New Year!
The 2023 grant cycle is now closed. Thank you to all who submitted an application! We will begin accepting requests for 2024 applications in September. Please check back for updates. ALL applicants will receive a determination on their grant via email by 7/31/23.
Update 12/05/22
The deadline to request an application has passed (12/1). All grants must be submitted by 12/31/22 at 11:59pm EST. Unfortunately, we are unable to accept any grants after the deadline.
Be sure to hit the green submit button before the deadline (see below).
The offices of The Puffin Foundation will be closed 12/26-1/2. Please direct any questions to our office by Friday 12/23 at 5pm EST. Our FAQ page is available if you need guidance while we are closed.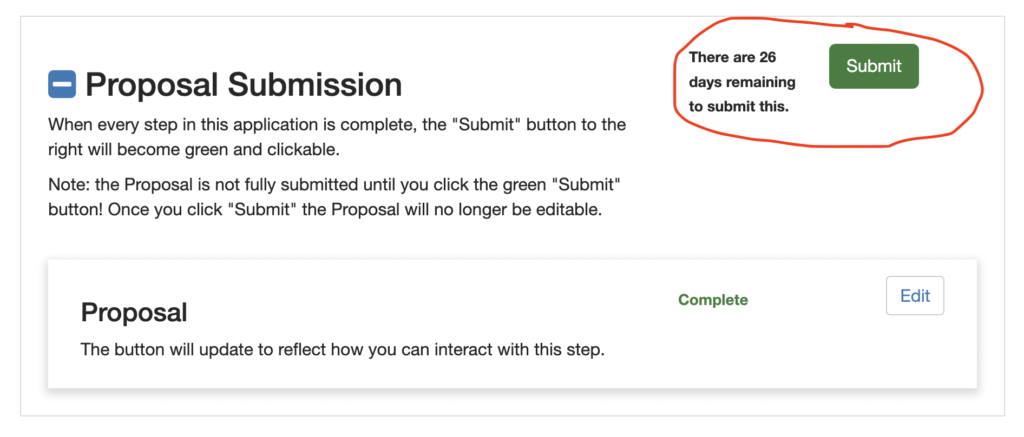 Update 10/01/22
Our grant cycle for 2023 is now open for information on how to apply, and deadlines, visit our Prospective Applicants page. For other question check our FAQ page.
Update 8/22/22
We're finalizing our procedures for the 2023 grant cycle. Please check back in September for the latest updates. Hope you're having a wonderful summer!
Update 12/7/21
Puffin's 2022 artist grant cycle has been extended. Requests for applications must be received by December 31st. Completed/returned applications must be completed on our on-line portal by January 21st.
For more information about how to apply please read our FAQ page.
Update 1/11/21
Puffin's 2021 artist grant cycle is now closed. We will notify applicants on the determination of their proposals on a rolling basis in a process that will likely last until summer. In September, we will open our grant cycle process for 2022 funding. We anticipate accepting proposals in the following disciplines, but this will not be finalized until mid-summer: Fine Arts, Theater, Photography & Music. Please check back on our website in July for updated information.
Update 12/22/20 – Holiday Hours
The Puffin Foundation offices will be closed Christmas day through January 4th. Our mail will be on hold and all deliveries of grants via USPS, UPS, or FedEx will be delivered January 4th and beyond. As long as your grant is POSTMARKED by December 31 it will be accepted regardless of actual delivery date. Wishing you all Happy Holidays and a safe and Happy 2021!
2021 & 2021 Grant Update 9/24/20