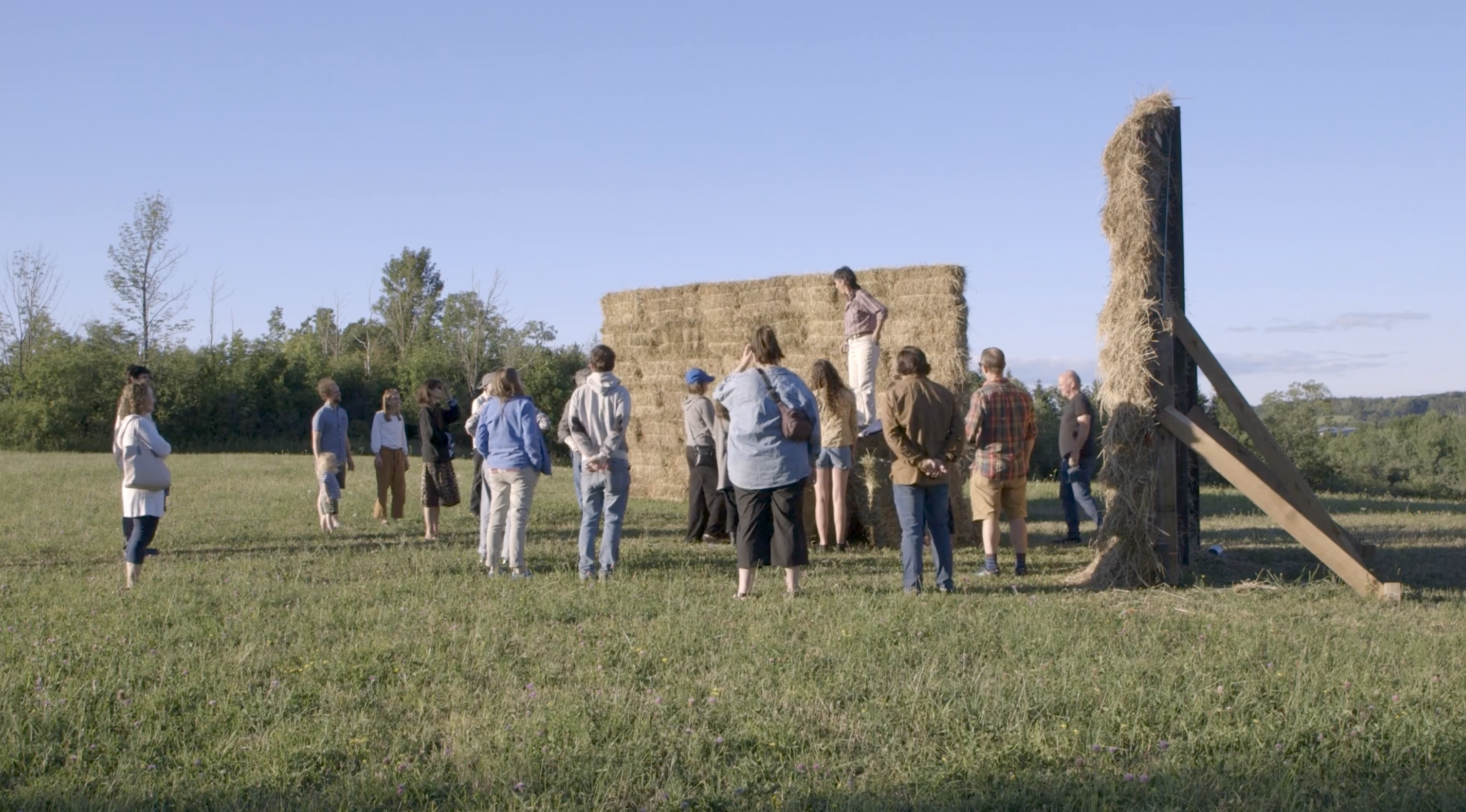 2 DIFFRN'T HAYSTACKS
On a north-facing field in Cazenovia NY, there are two large, flat sculptures facing each other at a gentle angle about twenty five feet apart: 2 DIFFRN'T HAYSTACKS.  The sculptures present the two-dimensionally flattened visages of a modern square bale haystack and an old-fashioned mounded haystack.  A viewer approaching these sculptures is presented with a somewhat realistic frontal view.  Circling around, they'd find that the backs resemble stage flats, with wooden scaffolding supporting the haystacks.  The sculptures are made from locally grown hay, recycled barn timbers, and temporary concrete anchors.
Once installed, the space between the sculptures was activated by a performance on 13 August 2022 by "Garge," a recurring cross-gender character with multiple personalities (including but not limited to ecologist, farm auctioneer, and yoga teacher).  A friendly if somewhat destabilizing facilitator, "Garge" guided the audience in slowly paying attention to where they were: inhabiting a complex overlay of social, political, and indigenous ecologies in a time of profound cultural and climatic change.
Through a playful reworking of tropes (haystacks, billboards, yoga, auctions), 2 DIFFRN'T HAYSTACKS explores layered, challenging conceptions of American land use.  Various sculptural and performative effects explore the spectrum of identities and agencies that constitute "use"– the cultural terms on which humans individually and collectively expect to encounter our natural environments.  The sculptures and performance both take a sincere though absurdist approach to exploring the complicated layers of land usage, history, culture, and identity existing on the project site; Ialeggio directly addresses local issues such as land ownership and environmental conservation, and invites the audience to reflect about individual and collective relationships with land.