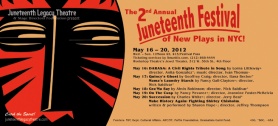 2nd Annual Juneteenth Festival of New Plays in NYC!
Juneteenth Legacy Theatre, a 2010 AUDELCO award winner, in partnership with the Stage Directors Foundation, presented seven one-acts about the black experience as a lunchtime reading series, at the Workshop Theatre's Jewel Theater in Midtown Manhattan. The festival pays tribute to the traditional African-American holiday, Juneteenth, which commemorates June 19,1865, when slaves in western territories learned of their emancipation, 2 ½ years after it was issued.
The partnership with the Stage Directors Foundation provided opportunities for Associate Members, usually recent graduates from MFA programs and actors transitioning to the profession, to direct the readings.
The works included: "DARASA: a Civil Rights Tribute in Song", a concert of spirituals dramatizing the plight of fugitive slaves; "Gra'ma Say", a rap tribute to the wisdom of grandmothers; "Quincy's Ghost", a tale of revenge; "Mama's Laundry Starch", a story in praise of the recuperative powers of starch; "On the Cusp", a story of the struggle to vote in a small South Carolina community; "Succession", a comedy about actors' blues; and "Fighting Shirley Chisholm", an biography of the early career of the first black woman to run for President of the United States.
Each play was presented for one performance and was followed by a talkback with audience members.