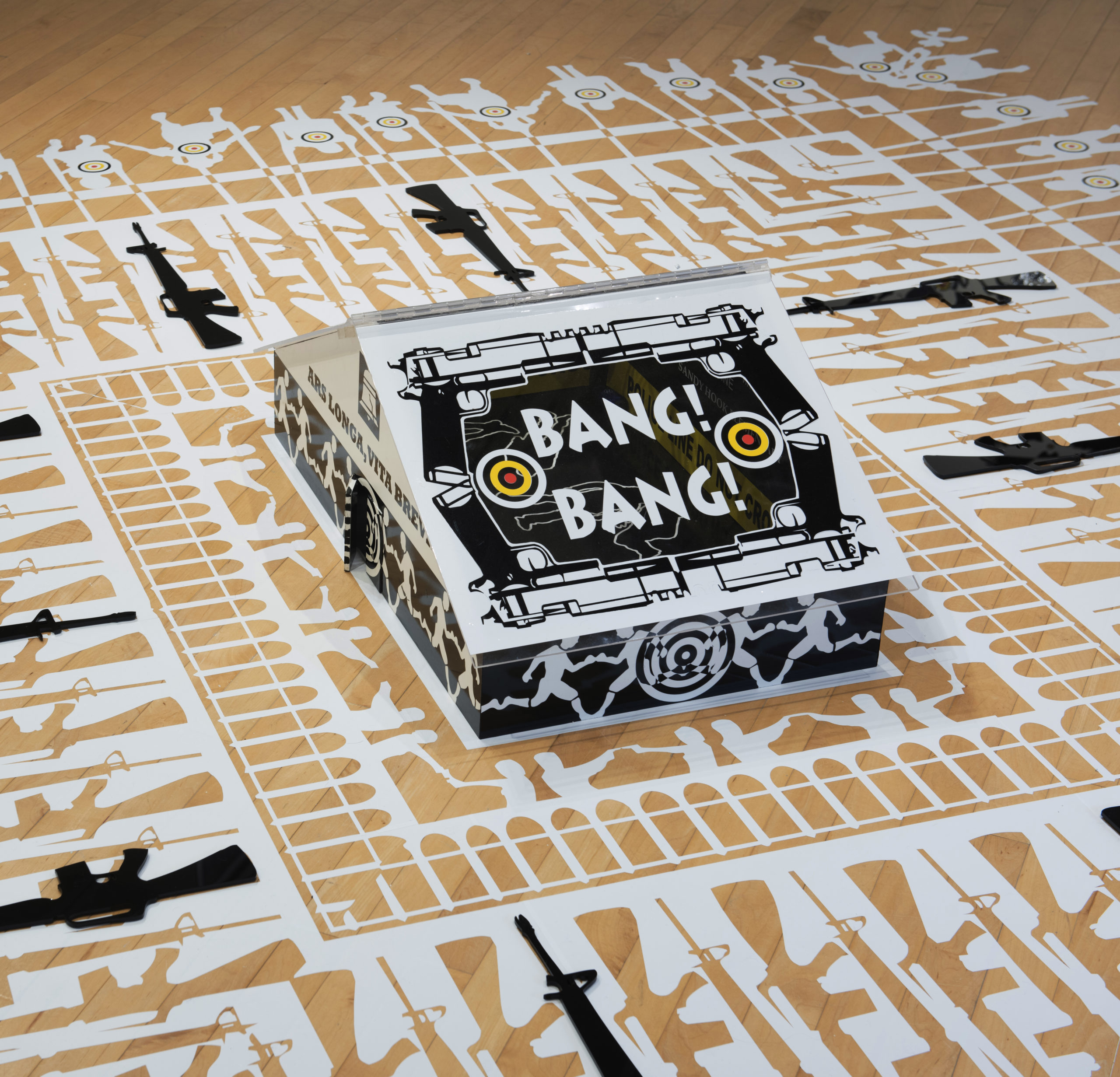 Bang! Bang!
"Bang! Bang!" is the title of a traveling solo exhibition that consisted of four to six installation works and three paintings. All dealt with gun violence, social justice and systemic racism.  I lost two friends to gun violence in Detroit shortly before Thanksgiving 2014. In this exhibition, I combined my personal grief with my outrage at the continuing, unnecessary gun violence and systemic racism that we witness in the media on a daily basis.
In 2017, this exhibition traveled to 3 different venues and reached three slightly different audiences.
In July and August, I showed this work at the Rebecca Randall Bryan Art Gallery at Coastal Carolina University in Conway, South Carolina.  In September, it was shown at St. Louis Community College, Florissant Valley in Fergusson, Missouri.  This was followed by a show at the Arts and Humanities Hardesty Art Center in Tulsa, Oklahoma.
Each location experienced a recent heart-wrenching and racially divisive incident involving gun violence and has a history of systemic racism. There was the slaughter of innocents in a Charleston church during the summer of 2015; the riots in Fergusson following the death of Michael Brown at the hands of the police in the summer of 2014; and in September, 2016, there was the shooting by police of unarmed Terrence Crutcher in Tulsa Oklahoma.  University and Community College art galleries try to serve their communities by exhibiting art that will engage them.  That was likewise the goal of the Hardesty Art Center.  It was my goal to show my work at these venues with the hope that it would engender a continuing questioning about the problems and solutions to the gun violence and the racism that is rampant in our country.  I do not provide a solution with my work.  I am not sure that I have any easy ones, but I want to keep talking about the problems that I see.  Don't Shoot.  Hands Up.  I Can't Breathe.  We are all targets in a world that worships guns. I gave an artist's talk at each venue where I spoke about my own grief and anger and encouraged the audience to speak of theirs.