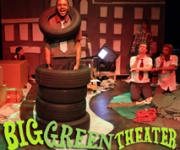 Big Green Theater (2014)
Here's how it works:
Every year, our theater works with local kids in our Bushwick, Brooklyn neighborhood to create short, original plays about community-based environmental topics.
These short plays are then performed by a group of professional actors- on a full technical scale- at our theater, The Bushwick Starr during the month of April. The kids are invited to participate in aspects of creating the shows, and can observe the process of using eco-friendly approaches to making theater. They are also, of course, able to see their writing performed live by adult professionals, and enjoy the fulfillment of seeing their work realized.
Our theater works with an assembly of professional actors, directors, and designers to stage the student's plays for a weekend-long public performance run. We ask these professionals to challenge themselves to work within the Green Theater movement; i.e: use recycled materials for sets, LED lighting, etc. This process educates our artists about how to make work while thinking green. In turn, the students observe the use of eco-friendly approaches to making theater, and continue to think creatively about re-directing activities in an environmentally friendly way.
The festival performances are free and open to the public.
At The Bushwick Starr, one of our goals is to create opportunities for arts education in Bushwick where there is a need for creativity-based programs inside and outside of our local schools. We believe that arts organizations like ourselves have a responsibility to invest in future generations by providing them not only with first hand experience in creative endeavors, but with opportunities for artistic expression.
Additional Websites: http://thebushwickstarr.org/