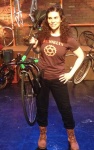 Bike Shop The Musical (2014)
Bike Shop is a one woman musical by Elizabeth Barkan, directed by Gretchen Cryer. It is the story of a Brooklyn bicycle store circa 1993 and its owner, Bobby, an exuberant bike mechanic who runs a shop that was first opened by her grandmother in 1936. Bobby sings odes to the freedom of the streets. For her, the bicycle is an escape — even a vehicle for feminine liberation.
Two years after a tragic bike accident, traumatized by the incident, she puts her bike away and focuses on fixing bikes instead of riding them. Only by reading her grandmother's diary and, with the companionship of a fellow cyclist, is she able to re-embrace the "emancipation" of riding. Bobby tries to get back on her bike and get her own life in gear.
As the sole performer in this new musical about the passions that drive us, the choices we make, and the relationships that help to shape us along the way, Elizabeth Barkan brings to life three generations of this colorful, bike-obsessed family as she plays multiple roles.
Barkan builds and fixes real bicycles on the stage and is backed up by the 4-piece "Bicycle Band" with Music Director Gerry Dieffenbach. Cyclists are encouraged to ride their bikes to the theater and park them on stage as a part of the set.
Bike Shop was produced as a workshop at Theater For The New City in March of 2012. The New York Times said the show "Sings cycling's praises on the stage", and "A charming Elizabeth Barkan, the show's creator and star, plays Bobby, who works at her family's bike store in Williamsburg, Brooklyn".
The next production of BIKE SHOP the musical will be in September 2015 at Theater For The New City.
Additional Websites: http://www.theaterforthenewcity.net/bike.htm, http://bedfordandbowery.com/2014/06/watch-your-fixie-become-star-of-the-stage-in-bike-shop-the-music