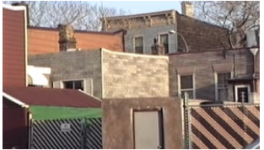 Blissville…An Investigation
This is a video about a remote corner of Queens, NY which has about 80 houses and is physically isolated from the rest of the city. Blissville is tiny triangle bounded by the Newtown Creek, the Long Island Expressway, and Calvary Cemetery ( the largest cemetery in the US). In addition to a compacted residential neighborhood of diverse ethnicity one finds the world's largest fortune cookie factory; another factory with the exclusive rights for making replicas of the Statue of Liberty; and when I started documenting, a sushi factory, an Afghan bakery, and a giant car crusher. Through street interviews we investigate the origin of the name of Blissville, and the character(s) of the town.
We learn of a nearby Romani village in the 1930's,in the height of the Great Depression. It was the largest gathering of Romani in the US, with people actually building houses and creating a village. They were Ludar from Romania, noted as entertainers and for training bears for circuses including the WPA Circus. The village was condemned and razed to make way for highway access to the 1939 World's Fair. The video features an interview with a woman who grew up in the village and who remembers having to move when she was 6.
The structure of the piece is in chapters to facilitate the breadth of the subjects. I think of the genre as a hybrid docu / poem. Many of the images are lyrical, metaphoric, and often humorous, collected in affordable video and presented in a non precious but sculptural way.
The video is not so much a mourning of things past, nor a nostalgia, although both those elements are present. It is more about the resiliency of community : both the Blissville, and the Romani. It is also about a community remarkably rich in ethnic backgrounds, many of the people on the first rung of immigration.
The purpose of the video is to be obliquely subversive: to engage the viewer in their own daily visual and aural tapestry and to engender secular humanist empathy.
Additional Websites: https://vimeo.com/user16284698/videos