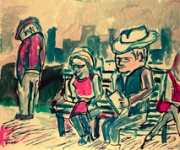 Community Arts Program
The Community Arts Program (CAP) annually provides over 2,000 low-income & homeless people access to open studio hours, professional instruction, and a range of art workshops. In addition, participants can take advantage of exhibition and sales opportunities at our gallery and other locations.
While people experiencing poverty are often defined by their immediate survival needs and personal circumstances, their contribution to community culture is often forgotten. The artwork created at CAP meets professional standards, but also expresses the realities of life for low income residents of San Francisco, allowing them to articulate their stories to the larger community. CAP adds to the vibrancy and community pride of the Tenderloin, Mid-Market, and South of Market neighborhoods and their specific artistic and cultural movements.
Open weekdays 10am – 6pm, CAP is often open for special events on evenings and weekends. Open studio hours are Monday, Wednesday, & Friday from 1 – 6 pm, and Tuesday & Thursday from 10 am – 3 pm when artists can create in a variety of media, including painting, drawing, ceramics, and sculpture. Studio assistants are available for artistic instruction and project guidance. During closed studio hours, CAP also offers visual arts workshops that provide instruction in a variety of media, supporting community artists to further develop their skills and learn new techniques. Weekly creative writing workshops are also offered from September through June.
With CAP integrated into Hospitality House's other programs, staff also use open studio hours to assist with other needs associated with homelessness and poverty, such as referrals for shelter, case management, and crisis intervention.
Through the CAP's comprehensive exhibit schedule, projects are showcased at more than a dozen local galleries and auctions throughout the year, as well as at local businesses and an Annual Art Auction, which has taken place for the past 28 years to suppor
Additional Emails: ">