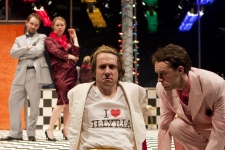 CSC's YOUNG COMPANY Education & Outreach Initiative
Each year, CSC's YOUNG COMPANY Education & Outreach Initiative makes Shakespeare alive and accessible to thousands of students in the NYC metro area. Cultural events are often out of reach for most of these students, due to the prohibitively high cost of admission and the lack of artistic programming in public schools' standard curriculum. In fact, the fully-staged, professional production the students see as part of this initiative will be the first that many of them have ever attended.
THE YOUNG COMPANY engages students and demystifies Shakespeare's text through a series of six interactive classroom workshops, which provide the teens with the tools to appreciate Shakespeare in an entertaining, hands-on format. This dynamic approach gives shape and life to Shakespeare's text, making it more tangible for young audiences. Our workshops and Study Guides, developed using the New York City Department of Education's Blueprint for Teaching and Learning in the Arts, are designed to illuminate different aspects of Shakespeare's play while complementing the participating classroom teachers' daily lesson plans.
The program culminates with a professional production of the Shakespeare play at CSC. This 90-minute production is conceived specifically for teen audiences, with their tastes and sensibilities at the forefront, and many of the actors who appear onstage (all members of Columbia University's Graduate Acting Program) are the very same artists who previously led the in-school workshops. This continuity between the workshops and the production further engages the students in our work, adding to the program's uniqueness.
A few weeks later, interested students have the opportunity to demonstrate their facility with and understanding of the play by participating in the Shakespeare Smackdown Scene Contest, which enables them to perform scenes from the play they have just seen in a fun, competitive format in front of their parents, teachers, and peers on CSC's stage.