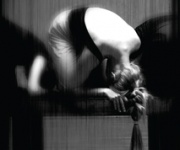 Deep Water
Sarah Council Dance Projects (SCDP) is a modern dance company founded by Queens – based choreographer Sarah Council as a platform for choreographic investigation and the creation of new works. These works emerge from a collection of personal experiences, research and observations and are shaped by periods of deep exploration and collaboration. Council's choreography has been described as "uncommonly honest and expressive" by The Washington Post. SCDP's works are visceral, expansive and highly physical yet nuanced, precise and often stark. Council constructs worlds and creates images that are thought provoking and emotionally transporting. Her works range from intimate observations of daily life and relationships to wider focused explorations of pressing social justice issues.
SCDP's newest project, Deep Water, is an evening of dance that focuses on women found on the margins of society; exploring ideas that relate to poverty, exploitation, gender and survival. Deep Water includes the expansion of two current SCDP works, Shadowlands and Staring at Stones.
Shadowlands seeks to expose the world of human trafficking and modern day slavery, one of the most pressing social justice issues of our day, while Staring at Stones, takes a closer look at the culture of the Appalachian Mountains, a historically exploited area filled with beautiful rolling hills and stark hardships. These two works, while focused on very different themes, share a common thread by unearthing the experiences of women found in areas and situations that are often hidden from public view. Deep Water gives voice to these stories; celebrating strength, examining injustice, and raising awareness.
Deep Water features the original music of Brooklyn based Greg Heffernan and Kentucky based Carla Gover and Anna Roberts Gevalt. Deep Water was presented by Gowanus Art+Production in Brooklyn, NY and Glema Mahr Center for the Arts in Madisonville, KY.