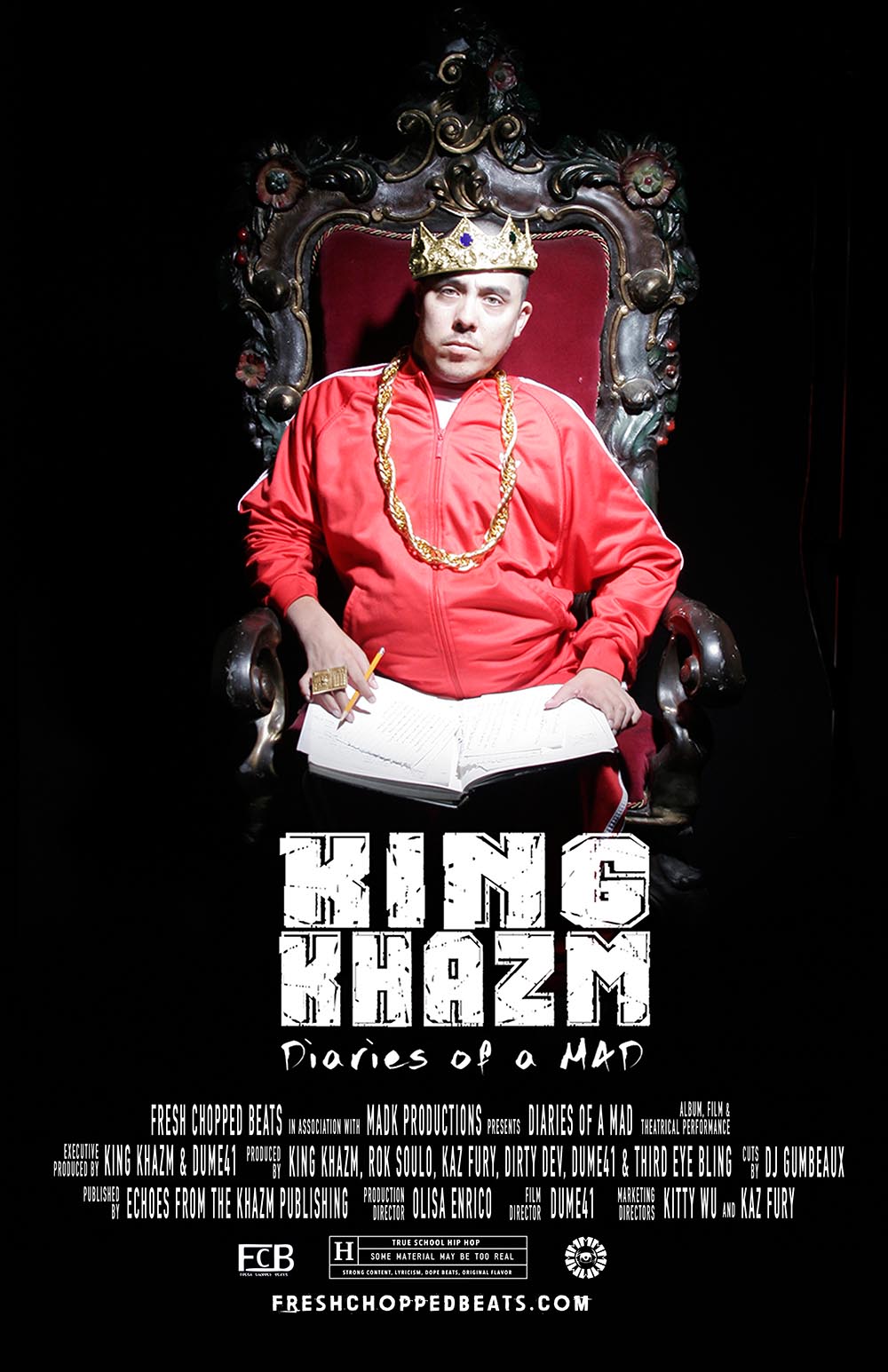 Diaries of a MAD
Hip Hop emcee, producer and organizer King Khazm hits the stage with the full length album debut and theater production "Diaries of a MAD." 
(Seattle, Washington) June 17-18, 2016 marked the highly anticipated return of Hip Hop emcee, producer, and organizer King Khazm to the center stage, with a double album release and theater production entitled "Diaries of a MAD" and "Livin' as a MAD" that debuted at the historic Washington Hall.
Diaries of a MAD is an interdisciplinary installation, uniquely bridging music, cinema, and performing arts in an intimate exploration of struggle and perseverance. The album is laden with crisp snares, warm kicks, and dusty samples produced by members of the Konstructicons, Dev From Above, Third Eye Bling and Khazm himself. The soundscapes of this autobiographical essay paint a dark lacquer of social commentary.
The stage show, produced by Olisa "Spyc-e" Enrico, is an artistic interpretation of how a bi-racial, disabled youth was able to overcome challenges in Seattle's Southend.
An amalgam of Hip Hop, Japanese culture and disability awareness; the conceptual musical performances, blended with visual projections, dance and theatrical segments, push the boundaries of what is and what can be.
In 2003, King Khazm, along with his rap group- Cyphalliance, emerged onto the Northwest Hip Hop scene with exceptional response with debut album "Industreets". A barrage of technological mishaps and life prevented the long awaited follow up album from seeing the light of day- until now.
One decade later, Living as a MAD has been miraculously recovered, and after several months of extensive reconstruction, the album will finally be released. This sonically diverse project, recorded at Seattle's renown Pharmacy, includes production by Jake One, Vitamin D, DJ Tre, Kitone, and others, ranging from socially conscious lyrics to smooth melodic vocals.
Diaries of a MAD and Living as a MAD both release on Fresh Chopped Beats / MADK Productions
"Soft-spoken, and wheelchair bound since childhood, Khazm doesn't boast about anything, but he's been instrumental to the Seattle hip-hop scene, so he could if he liked."
– Corey Kahler, Real Change News
"For Khazm, hip-hop was the key to building a life on the foundations of optimism and hope."
– Katelyn Hackett, Sound Magazine