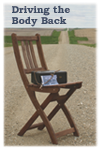 DRIVING THE BODY BACK
Swanderwoman Productions has embarked upon a tour of small community libraries throughout Iowa (and further in the coming year) with its offering of DRIVING THE BODY BACK, a staging of Iowa Poet Laureate Mary Swander's autobiographical narrative about her Irish American family history. With the support of the Puffin Foundation and Humanities Iowa, five libraries of communities with populations of 1500 and under were able to have this performance, already critically acclaimed throughout the midwest.
Staged and performed by actor, Karan Founds-Benton, this production uses a chair, a wash of light and a box of photographs to bring forth nine family characterizations in a profound expression of filial love and solidarity. From pioneers to bootleggers to tenders of dogs and the tender hearted, life, death and family love are explored. Swanderwoman productions seeks to further the success of this current tour to libraries and theaters across the US. Interested persons in support a tour or having a performance can contact the e-mail address or the Poet Mary Swander at www.maryswander.com.