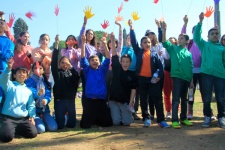 Education for a Shared Society Between Jews and Arabs in Israel (2014)
Givat Haviva's Education for a Shared Society program is a comprehensive educational program for Jewish and Arab students that fosters peaceful learning and understanding, while imparting the tools necessary to foster a Shared Society in Israel. The program includes multiple components utilizing a variety of pedagogical approaches tailored for different ages. Implemented within and alongside the formal education system, Givat Haviva's program uses informal peace education approaches, focusing on experiential education, Jewish-Arab encounters, dialogue, arts and culture, and joint activity.
Givat Haviva aims to reach students throughout the education lifecycle, starting in elementary school, through middle school and onto high school. The program thereby creates opportunities for repeated encounters and personal development among Arab and Jewish youth people – laying the foundations for a shared, democratic future for Israeli society.
The educational system in Israel segregates Arabs and Jews, leaving children and youth little if any opportunity to meet one another. This lack of meaningful contact leaves Arab and Jewish children vulnerable to stereotypes about "the other" and prevents the creation of a shared vision of society towards which all can join in achieving. Givat Haviva's education program is guided by the premise that education for shared living, as an integral and continuous part of the school curriculum through all ages, can change negative stereotypes and beliefs and contribute to a shared society based on mutual understanding, equality and respect.
Each age group level has an associated program, starting in elementary school with the Active Education for the Environment program. In middle school, the program is Children Teaching Children, and in high school the associated program is called Face to Face. To read a more in-depth explanation of these programs, visit our website at www.ghef.blogspot.com/p/education.html