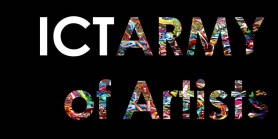 Empowering Youth Mural Project
A catalyst of cultural inquiry and relational aesthetics in Kansas, this project seeks to go beyond the creation of public art as we know it. Although the conception of a tangible art piece is important in the vocalization one's existence, our objective in creating an interactive environment in which people come together, re-engaged as participants in their own lives.
The celebration of culture and diversity lays at the foundation of a vibrant community that is empowered to create sustainable social change. We believe that places are made and given meaning by the people who live in them and the relations among those who inhabit it. In that context, the celebration of culture, diversity and innovation becomes a critical element, a sort of 'glue' for connecting people across different demographic boundaries.
We seek to train and provide the space for artists to become facilitators and instigators of community engaged and public art within underrepresented populations in Wichita KS. We want to create safe spaces where grassroots leaders, artists and activists can come together and, through the arts, they practice self-reflection, have a critical understanding of their environment and who can then create innovative propositions to ways of living together. We seek to empower the next generation of leaders and visionaries.
Additional Websites: http://armandominjarez.com/home.html, http://www.buzzfeed.com/adriancarrasquillo/27-powerful-photos-of-an-immigration-is-beautiful-mural-b