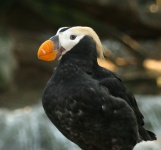 "Flor de Tierra, Homage to the Women of Juarez"
A selection of 15 drawings from Andrea Arroyo's project "Flor de Tierra, Homage to the Women of Juárez," supported by the Puffin Foundation in 2009, will be on view in the exhibition "Raza Con A" at The Wagner Gallery, New York University.
The Latina artist show will feature photography, paintings, and mixed-media works by four New York-based artists and will be on view through the end of 2013.
About the artist: Andrea Arroyo is an award-winning artist, her artwork is exhibited, published, reviewed and collected widely and is in private, corporate and public collections around the world.
Ms. Arroyo was selected by President Clinton as Global Citizen Award Artist, additional honors include 21 Leaders for the 21st Century; Groundbreaking Latina in the Arts; Official Artist of the Latin Grammys; Outstanding Latina of the Year and the New York City Council Citation Award for Achievement in Art. She has received multiple awards from New York Foundation for the Arts, the Northern Manhattan Arts Alliance, the Puffin Foundation and the Lower Manhattan Cultural Council.
Ms. Arroyo's work has been published extensively, including The New Yorker, The New York Times and The International Herald Tribune and has been the subject of over 150 features in the national and international media.
Additional Websites: http://clacs.as.nyu.edu/object/clacs.events.other.111213