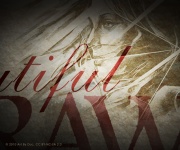 Foster Care Film & Community Engagement Project
Beautiful Raw is an animated documentary short which pairs audio from foster youth interviews with animated visuals to depict life in the U.S. foster care system. The youth stories are fragmented, much like the lives themselves, but come together over the course of the film to tell a complete story of perseverance & survival.
The film will open with Juliet's story. Juliet compares herself to a terrified dog at a shelter, one that just wants to be taken home & loved. Solitary confinement & institutionalization are options she's grateful for as they mean a warm bed & a meal, things she's not used to getting. We'll wind our way through fragments of other interviewee's lives ending with Fekri's incredible story of survival. Fekri was sold on his 5th birthday & was beaten within an inch of his life by the woman who bought him. The strength, will power, & courage of youth like him are why this film is being made. Of the 500,000 kids in the U.S. foster care system, we believe every one of them can find role models in our interviewees & can benefit from hearing their success stories.
Additional Websites: http://www.facebook.com/fostercarefilm, http://www.twitter.com/fostercarefilm