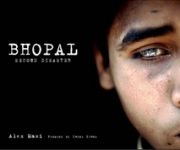 FotoEvidence Book Award Exhibit
Each year, the FotoEvidence Book Award honors one documentary photographer whose work demonstrates courage and commitment in the pursuit of social justice and human rights. The work is published as book and exhibitee in a group show with four finalists, at the VII Photo Agency Gallery in New York City.
In 2012, Alex Masi, an Italian photojournalist based in London, received the FotoEvidence Book Award for his work, "Bhopal Second Disaster" which documents conditions in Bhopal, India, 30 years after the world's worst industrial accident occurred there. The work focuses on the many children still impacted by the pollution of the areas soil and groundwater and on efforts by the Bhopal Medical Appeal (an NGO based in England) to provide medical services for the region.
One finalist, Vlad Sokhin, a Russian photojournalist based in Australia, produced a powerful body of work, "Crying Meri" that exposed a culture of violence against women in Papua New Guinea (PNG). His work was subsequently picked up by the United Nations for use in a public education campaign now under way in PNG.
Other projects exhibited include: Michelle Frankfurter's project, "Destino" following Latin migrants on their journey north the the US border; Maxim Dondyuk's work on people suffering from a tuberculosis epidemic in the Ukraine; Lisa Wiltse's work "Charcol Kids of Ulingan" about children who survive collecting wood for charcol at a large municipal dump in the Philippines.
With the annual Book Award and Book Award Exhibit, FotoEvidence seeks both to support photographers whose work address issues of social justice and human rights and to publish and bring to light stories that might not find commercial publicaton. To this end FotoEvidence also publishes digital photo books.
Additional Websites: http://www.ephotobooklist.com/