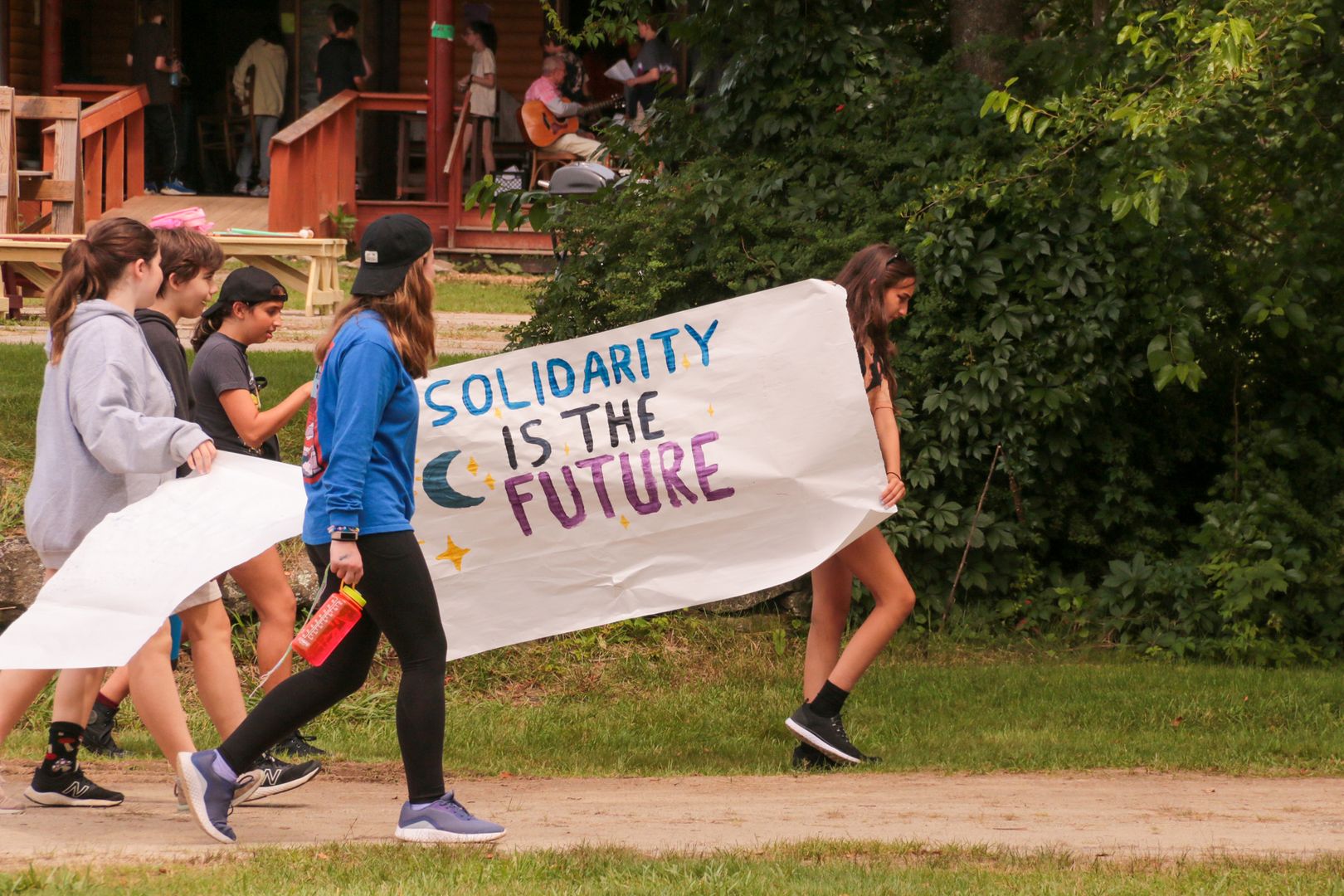 Funding for Arts and Cultural Programming at Camp Kinderland
Camp Kinderland thanks the Puffin Foundation for its continued support for our summer programming. The Puffin Foundation's generous grant has helped to fund Camp Kinderland's diverse program of music, dance, theater, and visual arts. With your support, we were able to live up to our full potential this summer despite limitations due to the pandemic.
The Puffin Foundation's grant to Camp Kinderland went towards the following arts and cultural programming:
Our theme this summer was "Fight Racism with Solidarity," which comes from a quote from Fred Hampton. Our peace Olympics teams were Fred Hampton's Rainbow Coalition; the International Union of Mine, Mill, and Smelter Workers which organized all workers regardless of race at a time when many unions were segregated; STAR (Street Transvestite Action Revolutionaries) started by Sylvia Rivera and Marsha P Johnson; and Idle No More, a movement for the rights of Native Peoples to protect the land and water.

The theme of our annual August Carnival was "Fighting Anti-Asian Racism with Solidarity." Our Cultural Director introduced each group to some of the struggles and resistance movements of several different Asian/Pacific Island groups, and each group chose themes for their booths, and then built and decorated them. The Carnival went off without a hitch, providing fun and education for all.

We invited a number of guest artists and performers up to Camp Kinderland, who included:

Folk singer Charlie King, who gave a concert in our Paul Robeson Playhouse.

Square dance caller Cliff Brodeur, who came to Camp Kinderland once each session.

Visual artist Wendy Ruebman, who gave drawing workshops.

YA author Gail Foreman, who gave writing workshops.

Camp Kinderland alum Carllee James, who taught folk dance.

Alan McGowan, who gave three workshops for older campers and staff: one on the Myth of Race, one on Climate, and the third on the history and politics of the A-bombing of Hiroshima and Nagasaki.

We brought our Counselors in Training to the annual peace vigil in Winsted, CT, to commemorate the 76th anniversary of the atomic bombings of Hiroshima. Kinderland's participation in the vigil was written up in the Winsted Phoenix. This required a bus rental.

We brought our staff and Counselors in Training to Pittsfield for a rally in support of the For the People Act, to expand voter registration and voter access. Kinderland's participation in the rally was written up in the Berkshire Eagle.This required a bus rental.

We brought our campers to see the Wizard of Oz at the Berkshire Theater. This required a bus rental, and COVID protocol required that we rent out the entire outdoor theater for Camp Kinderland.

We brought our campers to a Blues Brothers concert at the Village Green in Granville, and to see the Stinky Cheese Man in an outdoor park, both of which required bus rentals.
This grant helped to fund for our drama program, which presented, to reverberating acclaim, Game of Tiaras, a send-up of Disney caricatures, fairy-tale endings and even Shakespeare, as well as a robust pottery program in our Kathe Kollwitz Arts and Crafts shack, and other arts-related programming.
With our history of social justice education, it is our goal to continue to foster and encourage our campers' activism. We are always so proud to say that our campers grow up to become educators, artists, activists, and voices for social and economic justice. And as you know, we could not have sent our campers on these excursions, nor brought in such outstanding outside guests and facilitators without your generous support. We are grateful to the Puffin Foundation for its annual investment in Camp Kinderland, and for its decades-long legacy of working together for a better world.