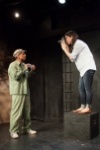 Goodness
Alex is a photographer known for taking her subjects back through the tragedies they lived in their past. Prisons and war are her subject's secrets and her style is one of re-living. Alex surrounds herself with ex-convicts, urban youths, and damaged people, all of whom she both helps and exploits. When she meets a former child soldier now living in Baltimore her ethics are brought into question as her artistic style is met with a trauma she may not be ready for. GOODNESS questions what it means to be truly "good" and if everyone can truly find redemption.
GOODNESS challenges the assumptions of an "us versus them" mentality. It insists the audience struggle, as the characters do, with the complexity of their lives: the struggles of choice, reconciling personal history, and consequence. It demands the audience experience the characters within the context of their cultural confines, and the play refuses to allow the viewer to retreat behind perceived differences and stereotypes. It also provides a forum for considering war through the eyes of a battle participant.
SEAN CHRISTOPHER LEWIS' plays have won the Kennedy Center's Rosa Parks Award, the 2010 National New Play Network's Smith Prize, a Barrymore Award from the Theatre Alliance of Greater Philadelphia, a Central Ohio Critic's Circle Citation, a National Performance Network Creation Fund Grant, the William Inge Fellowship and more. He served as National New Play Network Emerging Playwright in Residence at Interact Theatre in Philly and as Playwright in Residence at the William Inge Arts Center in Independence, Kansas. He can also be heard on the radio as a contributor to NPR'S This American Life. His other plays include Killadelphia, Just Kids, Militant Language, and The Aperture. He is the Artistic Director of the Working Group Theatre.
Additional Websites: http://www.projectytheatre.org/