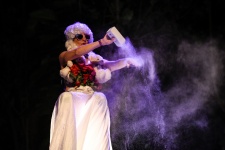 Hands up Dis/Unity Make This Not Us Against Them aka Border Conjure Dazzle
My project brought together visual, interdisciplinary, performance artists, poets, and video artists to create a performance event in Philadelphia gallery Vox Populi in summer 2015. Our performance project within that was a performance art and installation piece. This project researches institutionalized racism and social justice. My personal life is interwoven into the struggle to fight white supremacy: As a white mother raising a black daughter in the USA, my love, fear, and hopes for her future are linked into the essential fabric that drive the development of this project.
Philadelphia choreographer and performance artist, Esther Baker-Tarpaga, directs the project. The collaborators are Barber (Detroit), Duane Lee Holland (Philadelphia), Raquel Monroe (Chicago), and Heidi Bartlett (Iowa City). We make live art on abolitionism and the intersections of pop culture, queer culture, and social media to address trauma, liberation, and transcendence. We have had residencies at Vox Populi, Philadelphia, Space Place Theatre, University of Iowa, University of the Arts Philadelphia, and The Englert Theatre, Iowa City.