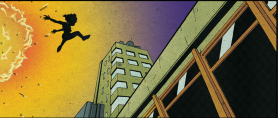 Hero How To
The Last Days of Kartika is an online graphic musical that uses Funk, Soul, and Hip Hop music to tell the story of the citizens of Kartika during their most troublesome times. Dusky Diana is the would-be hero recruited by underground rebel group Community Education in their fight to ruin the sinister Phercy Corporations.
A series of twenty to thirty Webisodes will culminate into a staged motion comic with new works by the Hip Hop collective Community Education. This live motion comic, Hero How To, is a site-specific theatrical experience that incorporates animation, urban dance, and Hip Hop music. It is the origins story of the would-be hero Dusky Diana, acting as a prologue to the pilot webisode. Her story is broken down into three steps that double as both chapters in her history, as well as an instructional seminar on how to be a hero. Each step unravels through music, dance, and dialogue. The series of events lead up to the first webisode, also incorporated into the piece.
Kartika is a story told in multiple mediums yet still centers itself in musical composition. Its basic ingredients are that of traditional musical theater, however, its presentation incorporates new media.
Additional Websites: http://www.duskydiana.com/, http://www.communityedu.net/