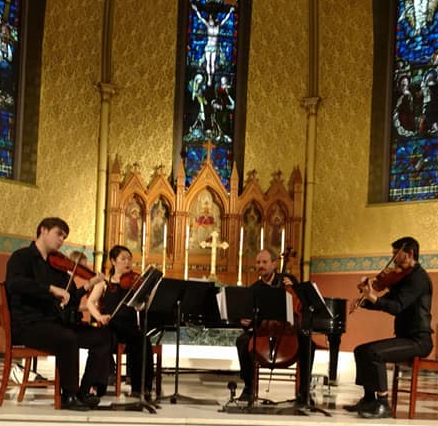 Honoring Refugee Composers
Crossing Borders Music honored refugees around the world in this performance of music written by or about refugees!
The program included the proud "Refugees Anthem" by Syrian musician Moutaz Arian. Contemporary Armenian composer Tatev Amiryan's "Tristesse," a homage to the famous Armenian musician Komitas, expresses Komitas' pain and sorrow as the Armenian Genocide forced him from his home and caused him to suffer a mental breakdown as he lived in exile for the rest of his life. Ruth Schonthal's String Quartet "In Memoriam Holocaust" was an emotionally intense contribution to the program. As an American Holocaust refugee, Schonthal spent much of her life avoiding writing music about the Holocaust so as not to trivialize it. Late in her life, she finally decided to write this piece to encourage its remembrance and memorialize its victims. Mahdis Kashani's "And the Moses Drowned" is written in memory of Aylan Kurdi and all children who have died in war. Mahdis says, "These children are innocent like Moses, but without any savior." Croatian-born Zvonimir Nagy's exquisite "Fall, Leaves, Fall" and Uruguayan-born composer Miguel del Aguila's exciting "Presto II" rounded out an intensely stirring program, and especially exciting was a visit by Zvonimir Nagy and his family to attend this performance and speak to the audience!
This project was the first time Crossing Borders Music highlighted refugee concerns through music. It has expanded into entire programs and projects dedicated to individual refugee composers and refugee populations, including a celebration of exiled Armenian composer Komitas, music honoring Cambodian genocide survivors who are refugees, and, during COVID-19, a video series of music by composers forced from their homelands (including the video here).