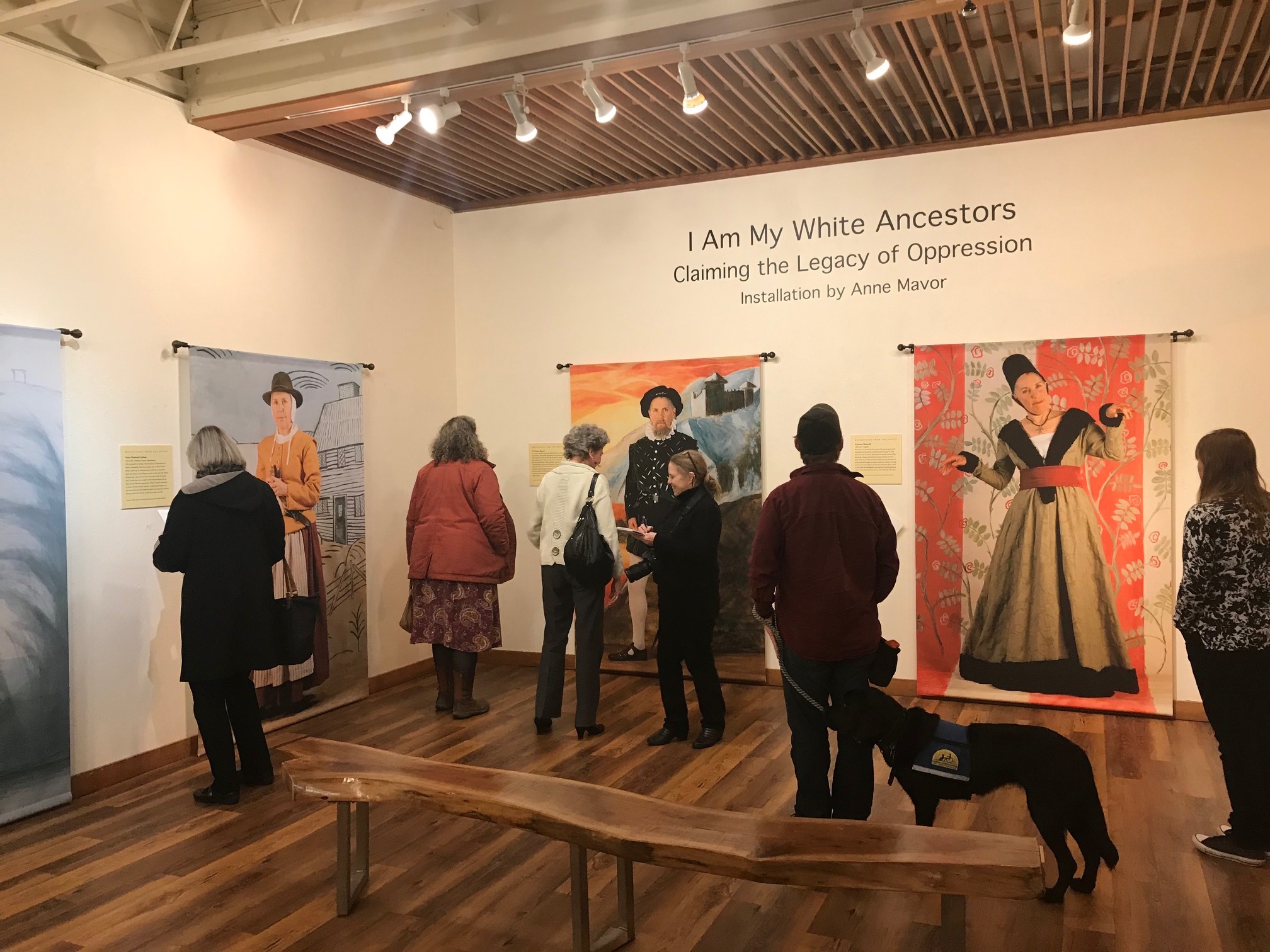 I Am My White Ancestors: Claiming the Legacy of Oppression, An installation and public engagement project
I Am My White Ancestors:
Claiming the Legacy of Oppression
An installation and public engagement project
Touring installation of thirteen life-size photographic self-portraits that explores European-American heritage, my family, and our role in the history of race, class, colonization, and genocide. The ancestors, real and imagined, span over 2000 years from the Celtic Iron Age to present day Portland, Oregon. The 84" x 54" portraits are printed on fabric panels and accompanied by audio narratives from the perspective of each ancestor. The narratives describe how each persona acted out and perpetuated oppression and why.
Goals
The goals of this artwork are to make European American history and identity visible and to inspire white viewers in particular to claim both positive and negative aspects of their own family histories as a step towards participating in the end of racism. The installation supports broad community outreach on anti-racism education, social justice, gender roles, and history. It uses the power of art for both understanding and social action.
Audience
This exhibit is designed to spark discussions and learning about the history of oppression. Non-profit organizations, congregations, and schools are invited to collaborate with the artist on programming that furthers their anti-racism and social justice goals. The artist is available for presentations to groups of all kinds and classes from middle school through college.
Within an educational setting, it is relevant for classes in art, theater, and general humanities including gender roles, history, sociology, English, social justice and more. To engage students, the exhibit includes a teachers' guide to help high school and college instructors utilize the exhibit in their classes. They will learn about history in a personal way, be invited to examine their own lives, and inspired to take action.
Religious congregations and non-profits with social justice goals also find this show useful for group discussion.  These groups will be able to use the exhibit to further their own goals by hosting special events and promoting it to their members.  The project will engage visitors to reframe the concept of white heritage and its relation to racism and its companion oppressions of classism, colonization, and genocide.
RECENT MEDIA LINKS
"I Am My White Ancestors" Claims the Legacy of Oppression An artist's journey into her family's Whiteness, by Nancy Hill, Yes! Magazine, Spring 2019
Artist Illustrates And Claims The Oppressive Past Of Her Ancestors, KLCC radio interview by Melorie Begay, January 30, 2019
Exhibition History
Alexander Gallery, Clackamas Community College, Oregon City, OR. September 2016
Rhodes Art Center Gallery, Northfield Mount Hermon School, Mt Hermon, MA. December 2017-January 2018
Runyan Gallery, Newport Visual Art Center, Newport, OR, February 2019
Oregon Episcopal School, Portland, OR. February 2020
Upcoming
The Arts Center, Corvallis, Oregon. June-July 2020
Salem Art Association, Salem, Oregon May 2021