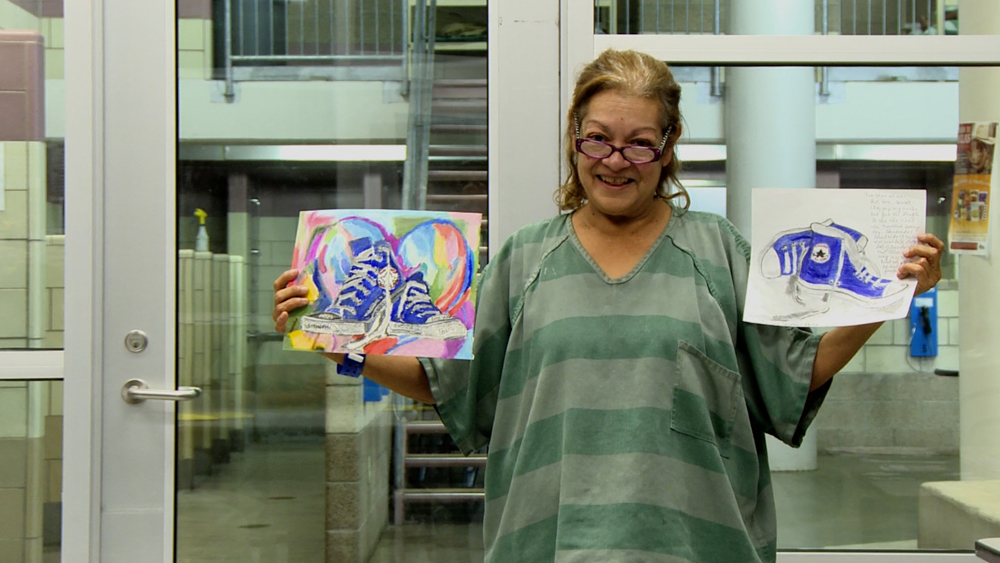 IN HER SHOES
A Media Projects Inc. production.
This film puts a human face on women behind bars. At the Dallas County  jail, which houses 700 women, shoes are more than a fashion statement. From vertiginous stilettos to trainers to "jail crocs" handed to them by prison staff, the women's drawings of their footwear reveal their troubled paths and hopes for a brighter future. Some of the inmates, who are behind bars for a year up to two decades for crimes like prostitution, theft, embezzlement and drug offences, speak for the first time about the physical and sexual abuse they endured during their childhood and onwards.
For several years, we have been collaborating with the Dallas County Jail Education Art Program taught by artist  and teacher Sandra Lara. Together, we have developed an enriching and empowering innovative art and writing course where incarcerated women explore their lives through their most personal accessory: their shoes. Collecting all these stories has now resulted in the  powerful documentary film, IN HER  SHOES.
Many of the women suffer from sexual and physical abuse, making the program a healing process that provides an opportunity for reflection and self-discovery after their traumatic journeys. The implementation of this art program serves as a creative outlet for the participants to heal emotionally, as well as an opportunity to earn college credit.
Most of the female inmates enter the prison system with a lack of self-confidence, self-worth, and hope. The inmates express that the art program offers them hope:  self-confidence and the reality of envisioning their lives