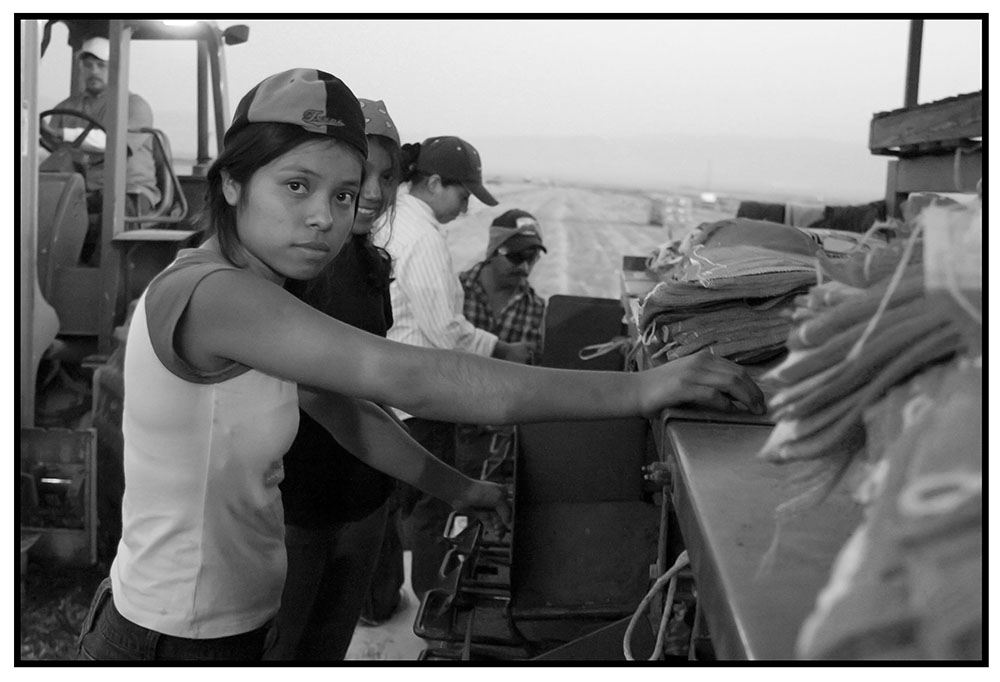 In the Fields of the North / En los campos del norte
How much do we really know about the lives of the people who feed us? How does it feel to do this work – some of hardest labor we can imagine? What answers do farm workers themselves have to poverty and migration?
In the Fields of the North is a series of evocative photographs, accompanied by moving oral narratives, that takes us into this world – letting us see in images and hear in voices what it means to be a farm worker today. This exhibition does not try to present a neutral view, because it is not a comfortable world that we see.
The images provoke questions.
What does it mean to see a farm worker woman living in a tent on a hillside, so many years after we made the birthday of Cesar Chavez a national holiday and put his face on a postage stamp?
What is the cost of working bent over double in a muddy strawberry row, season after season?
When the people who pick the blueberries we eat for breakfast want a better wage, why do have to go on strike to get it?
While certainly some things have changed for farm workers in 50 years, it's clear some things haven't. In the Fields of the North explores these questions in 56 large photographs, each 30″x24″, and each with extensive captions. The images are accompanied by 4 text panels of personal narratives, in English and Spanish.
In the Fields of the North builds on a long term partnership between David Bacon, a photographer and journalist, and California's legal aid service for farmworkers, California Rural Legal Assistance (CRLA), and a leading organization of indigenous migrants, the Binational Front of Indigenous Organizations (FIOB). Over fifteen years this project has produced over 10,000 digital images and recorded over 100 interviews. They have been used by FIOB and CRLA to advocate for the rights of migrants and farm workers.
This exhibit toured libraries, museums, community centers, especially in poor and working-class communities, and was shown in the communities that participated in the documentation. The photographs helped the public understand who produces their food, inspiring consumers to pressure to end illegal and abusive conditions, and to substitute respect for migrants for stereotypes and false information about farm labor and migration.