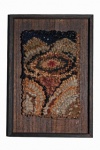 iView: Analysis
The world today is inundated with everything "i", from iPods, to iBooks, to iPads, to iPhone, to iPhotos, etc., just to name a few. With that in mind, introducing iView: Analysis, an exhibit that analysis's the world through the eyes/i's of leading fiber/rug hooking artists from around the globe.
iView: Analysis is an exhibition featuring sixty-four artworks created using the techniques of fiber hooking and stitching. The theme of the exhibit was open to interpretation and each artist was encouraged to create four pieces using their own personal imagination and craft.
This international exhibit includes artists from USA, Canada, Japan and Australia. It consists of sixteen textile artists who have joined together to give their own view of "i". Each artist in the i iView: Analysis exhibit created four related pieces that each measure 4″ x 6″, the size of "artist postcards"(either horizontal or vertical in orientation) which were then mounted in wooden shadow boxes that measure 6″W x 8″H x 1″D.
The artists were free to interpret their pieces (and shadow boxes) any way they chose, with the only restriction being that some type of rug hooking, punch hooking, or Russian needle punch be present in at least part of one of their four pieces, and that the art work did not extend outside of each shadow box. With that in mind, each artist created a quartet of intimate "stories" boxes which either boldly or subtly opened you into their own visual world. From Susan Alain's pieces called More, which was a steady progression of adding more and more to each of her four pieces till there was no more to add, created using raw linen which as painted with house paint and then knitted, hooked and embellished, to Burma Cassidy's pieces which look at the music icon Lady Gaga, created using fine sewing threads which were punched into a linen foundation; each artist created a beautiful series vignettes. This exhibit will be traveling through 2014. ~ Linda Rae Coughlin/Curator