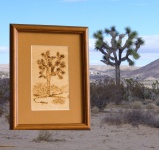 Joshua Tree Chronicles
Joshua Tree Chronicles was developed to document the now protected Joshua Tree in pyrography on Joshua Tree wood and to increase general knowledge of Joshua Trees and the fine art of pyrography.
Joshua Trees are primitive plants that are members of the lily family. They are glorious inhabitants of the Mojave Desert and now enjoy a protected status. They also enjoy the attraction of worldwide tourism at their namesake known as Joshua Tree National Park in California. Their unusual spiked appearance and shape is determined by a beetle that makes their limbs stretch to the sky in grotesque shapes. Joshua Trees were so named by early settlers as Joshua reaching to the heavens to pray.
Early in the Twentieth Century, the trees were processed for their wood to make stationery and veneers to decorate furniture and provide tourist items. The practice was abandoned ultimately was to costly and the trees entered a protected status. Some of the veneers from the Mid-Century period became available to me which moved me to depict individual Joshua Trees on the wood using Pyrography. Pyrography was used over 3000 years ago and was generally used a decorative burning of functional items for the home. Recently, interest in the art has increased as a fineart. Many artists now submit their "drawings" into open art shows to demonstrate the beautiful subtleties that can be achieved with Pyrography.
I thoroughly enjoy burning Joshua Trees on the Joshua Tree wood, although safety masks must be worn because of the toxic nature of the burned particulates from the wood.
I show the work in Galleries in Palm Springs and Laguna Beach which opens up dialogue on the Joshua Tree and Pyrography. I find that the public is gaining a greater appreciation of the Joshua Tree and Pyrography and their respective history and acceptance into the world of fineart.