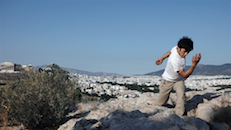 Journey without a Map
"Journey without a Map" explores the transformative power of dance for refugees struggling with displacement, discrimination, and trauma. The goal of the project is to present a high-quality dance documentary to US and international audiences. The film personalizes the refugee crisis by providing an intimate portrait of a refugee from war-torn Kandahar, Afghanistan.
Abduol Naziri fled Taliban bombings to Iran, and then later to Greece. He survived an arduous journey through the mountains from Iran to Turkey, and then, like so many other refugees making news headlines, nearly drowned on a small boat from Turkey to Greece. On the cusp of bankruptcy, Greece, Europe's gateway, has no resources for the thousands of asylum seekers flooding its borders. In Athens, Abduol struggles against discrimination, racist attacks, and bureaucratic limbo. He had never danced at all until he chanced into a movement workshop with the Modern Dance Awareness Society. With help from the choreographers, he improvised an explosive solo for an Athens audience. He evolved as a dancer over the following years, and performed in prestigious events. His dance practice opened doors and introduced him to a community he might not have found otherwise. Last year, at twenty-six, he founded an aerial workshop in a community theater.
Woodward began filming in Greece in 2009, in collaboration with passTRESpass, a dance workshop for refugees. She created two short films related to the ongoing workshop. She returned in 2015 to shoot a new short documentary. Woodward developed a relationship with the subject, Abduol, over the past few years of filming the workshop, and a longitudinal narrative has emerged due to her commitment to returning.
Through exploring the life of a refugee in Greece, the film will give viewers the chance to understand how refugees take creative risks, tackle the complex issue of their crisis, and express points of view seldom explored in mainstream media.