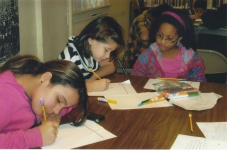 Labor Arts Program (2014)
Labor Art classes for students from grades 3-5 are held on Saturdays at the American Labor Museum/Botto House National Landmark. The purpose of the classes is to introduce students to the history and contemporary issues of immigrants and the labor movement, as a means of inspiration to create visual art projects and participate in the performing arts.
The classes are scheduled from September through December 2014 and March through May 2015. Performing arts activities to be addressed include: "Teaching Tolerance inthe Workplace," "An Immigrant's Home: Then & Now," and "Working in Silk City, Paterson, NJ" Visual art activities to be addressed include: "Lewis Hine: Street Kids & Farm Kids," "Si,Se Puede!: Yes, We Can: Justice for Janitors," and "When I Grow Up, I'm Going To Be… Safe Jobs in New Jersey."
The Labor Art classes are conducted from 11:30AM – 1:00PM at the Botto House National Landmark, home of the American Labor Museum.
The Labor Arts Program not only enriches the students' knowledge about the arts, it also enhances the development of social consciousness. Through exposure to societal problems (i.e., sweatshops, downsizing, part-time employment, non-documented employees, worker exploitation, child labor, etc.), enlightened students are encouraged to direct their energy in a creative and constructive way.