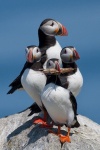 Landscape and Life Form
LANDSCAPES AND LIFE FORMS is a site-specific outdoor installation created for Governor's Island, New York for the summer of 2010. The sculpture consists of hundreds of rocks painted with fractal formations stacked in a pod like shape. ). Starting with the most simple and building to the more complex,I begin with one small component such as a rock, or a dot of paint on a rock, and mechanically connect one fundamental element with another and another and another until a whole is created. This process is akin to a cell grouping together with other cells to form a more intricate organism as a virus.
LANDSCAPES AND LIFE FORMS calls attention to not only the shape and setting of the outdoor site at Governor's Island but also to the surrounding natural organic patterns, seen and unseen by the naked eye. Viewers can walk around the oblong structure and simultaneously experience the gestalt of the whole in concert with the physical presence of the parts that make up the whole.
Additional Websites: http://www.sculptorsguild.org/