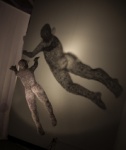 Lights & Shadows
"Lights & Shadows" A Sculpture/Performance Project
Fluid transparent bodies, both visceral and sculptural, cast their shifting colored shadows in my invented public space. Viewers witnessed an ephemeral moment, the culmination of my years as a dancer and sculptor.
My life size figures are fashioned of wire netting, a perfect foil for special lighting effects to create environments of shadows. In 2013 the Puffin Foundation funded me to build such an installation in downtown Bellingham as a gift to the people of my city during the winter months. This town receives the least amount of sunshine annually of all American cities.
This was my most ambitious project to date, involving dancers, a choreographer, designers, musicians and students to create a multi-sensory event. The demands of engaging with local city bureaucracy offered a challenge I enjoyed. The downtown location in the heart of the business district was especially satisfying in the way my installation drew in passersby.
Opening Night was the coldest night of the year; but nevertheless many visitors turned out to see just what my installation was about. They were met in the space by dancers interacting with the sculptures and their shadows, inviting attendees to engage in the shadow play. The soundtrack and moving colored lights added to the delight and mystery of the space.
Bellingham, WA, is a beautiful, vibrant city in NW Washington state. Though a college town with many artists, it has very few venues to show and share strong, interesting artwork. I hope my self-generated exhibition project will inspire other local artists to try their hand at "guerilla" exposure. Funding from the Puffin Foundation encouraged and inaugurated a new way for me to work in my local community.