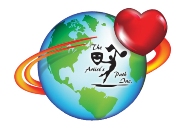 Love Makes the World Go Round
The Artist's Path explores the capacity of art and artists to shape our societies through multiple disciplines.
The Puffin Foundation generously supported Love Makes the World Go Round in April 2012. This production included an original theatre piece shaped from over 50 monologue submissions from California, Arizona, New Mexico and Texas all of which explored the many faces of love. Elements of music, dance, and visual art were incorporated into the mix. We were pleased to have two gifted actors join our cast in Prescott, AZ, from the city of Phoenix ninety miles south of us. In addition we showcased the work of several local visual artists whose work resonated with the theme of love. Finally we partnered with a local women's shelter, Big Brothers, Big Sisters, and Prevent Child Abuse AZ to raise our mutual profiles and provide some additional monies for these worthy non profits serving our community.
The Puffin Foundation also supported our inaugural festival, The Artist's Response to Peace and Social Justice in 2011 in which we produced three established plays in addition to a New Play Competition, a workshop for students in acting, humanities lectures on Afghanistan, the play SEVEN, and Art & Inspiration.
In 2014 our festival focuses on journalism and ethics as explored through Theatre, Film & Photography.
Partnering with two local colleges and The Breast Care Center of our local hospital we will produce the play Red Hot Patriot, The Kick Ass Wit of Molly Ivins, a symposium with invited scholars in journalism, a photojournalism competition, a short film on journalism in a POW camp in WW II Germany and finally a memorial service for the over 900 journalists who have lost their lives around the world since 1992 bringing us the news.
If you find yourself in Prescott, AZ please email ahead and I will gladly give you a tour of our arts community. If we have a production up at the time of your visit, please be our guest. Gail Mangham, Artistic Direc
Additional Websites: http://theartistspath.blogspot.com/