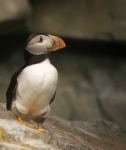 Maternal Landscapes
I want to reveal the beauty of the maternal nude through a public exhibit of large-scale photographic prints of many different pregnant nudes shot as landscapes.
Using mostly natural light and black and white film with no digital manipulations or retouching, I have been documenting the female pregnant body using 35mm and 4×5 film cameras for more than 15 years. I focus on pregnancy as a concept and the body as an abstract language and landscape. This body shape not only represents birth, rebirth, creation, and metamorphosis, but also is an allegory for many social issues that humankind struggles with today including over-population, declining birth rates, increased infertility, rampant consumerism, and the mindless destruction of the environment.
Furthermore, although imagery of the youthful female nude is a common subject in art history, books, galleries, museums, and popular media, the pregnant female form is all but absent. I aim to offer a counter-perspective to the traditional gaze of modern media and film, and an opportunity to study this familiar — yet still somewhat alien — shape up close.
My goal is for the scale of the image to deemphasize the subject matter and disorient the viewer; the audience will become absorbed into the abstract topography as they gaze at what appears to be a landscape, coming to understand later that the imagery is a pregnant woman's body, perhaps similar to their own mother's shape.
Additional Websites: http://www.jenniferloomisII.com