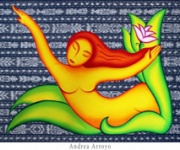 "Memories Interlaced"
Andrea Arroyo "Memories Interlaced"
Closing Reception: Thursday, Jan. 30th, 6-8pm
The Malcolm X & Dr. Betty Shabazz Memorial Center.
3940 Broadway, New York, NY 10032
(@ 165th St. Train A,C,1 to 168th St.)
Free and open to the public.
Andrea Arroyo's "Memories Interlaced" brings together the elegant historical venue with vivid contemporary art. The female-centered works are placed amid the striking plaster garlands, cherubs, and marbleized columns of the restored Audubon Ballroom – the Thomas Lamb classic built in 1912 and was the site of the assassination of Malcolm X in 1965.
Arroyo uses garments collected from women in the community, such as a Mexican huipil, and an Indian prayer shawl, to examine notions of memory, belonging, and body image and to honor the resilience of the female spirit.
Reviews include: Featured in The Manhattan Times , El Diario, Inkandescent , The Examiner NY, Yareah.
About the artist: Andrea Arroyo is an award-winning artist, her artwork is exhibited, published, reviewed and collected widely and is in private, corporate and public collections around the world.
Ms. Arroyo was selected by President Clinton as Global Citizen Award Artist, additional honors include 21 Leaders for the 21st Century; Groundbreaking Latina in the Arts; Official Artist of the Latin Grammys; Outstanding Latina of the Year and the New York City Council Citation Award for Achievement in Art. She has received multiple awards from New York Foundation for the Arts, the Northern Manhattan Arts Alliance, the Puffin Foundation and the Lower Manhattan Cultural Council.
Ms. Arroyo's work has been published extensively, including The New Yorker, The New York Times and The International Herald Tribune and has been the subject of over 150 features in the national and international media.
Additional Websites: http://theshabazzcenter.net/event/memories_interlaced_closing_reception.html, http://theshabazzcenter.net/event/memories_interlaced_by_andrea_arroyo.html