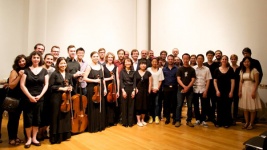 mise-en music festival (2014)
ensemble mise-en is excited to announce mise-en music festival 2014, which will be presented in collaboration with the Momenta Quartet, Ensemble Paramirabo, and more than 30 international composers. The works of these composers were selected from the festival's call for scores, which yielded 862 submissions by 702 composers from 65 different countries.
In total, mise-en music festival will feature four curated concerts, one marathon concert (total 6 hours, comprising 6 sectional concerts), and three workshops.
Performances and Events Will Be Hosted By the Korean Cultural Service New York (June 19), Americas Society (June 20), the Taipei Cultural Center (June 21), Scandinavia House: The Nordic Center in America (June 21), and Tenri Cultural Institute (June 22)
Concerts
June 19 : ensemble mise-en @ Korean Cultural Service (8pm)
June 20 : Ensemble Paramirabo @ Americas Society (7pm)
June 21 : The Momenta Quartet @ Taipei Cultural Center (5pm)
June 21 : Bent Sørensen Portrait / ensemble mise-en @ Scandinavia House (8pm)
June 22 : New Music Marathon (ensemble mise-en / The Momenta Quartet / Ensemble Paramirabo) @ Tenri Cultural Institute (4pm)
Workshop Series @ the cell
June 21 : Composition, New Sounds, and Orchestral Instruments / members of ensemble mise-en (11am-12:15pm)
June 21 : Improvisation / Fay Victor (1-2:15pm)
June 21 : New Music and Korean Traditional Instruments / Gamin (2:45-4pm)
Composer Registration / Meeting @ Spectrum
(Closed events. RSVP required. )
June 19 : Composer Registration (1:30-2:30pm)
June 19 : Composers Meeting (2:30-4pm)
Additional Websites: http://www.mise-en.org
https://vimeopro.com/ensemblemiseen/mise-en-music-festival-2014