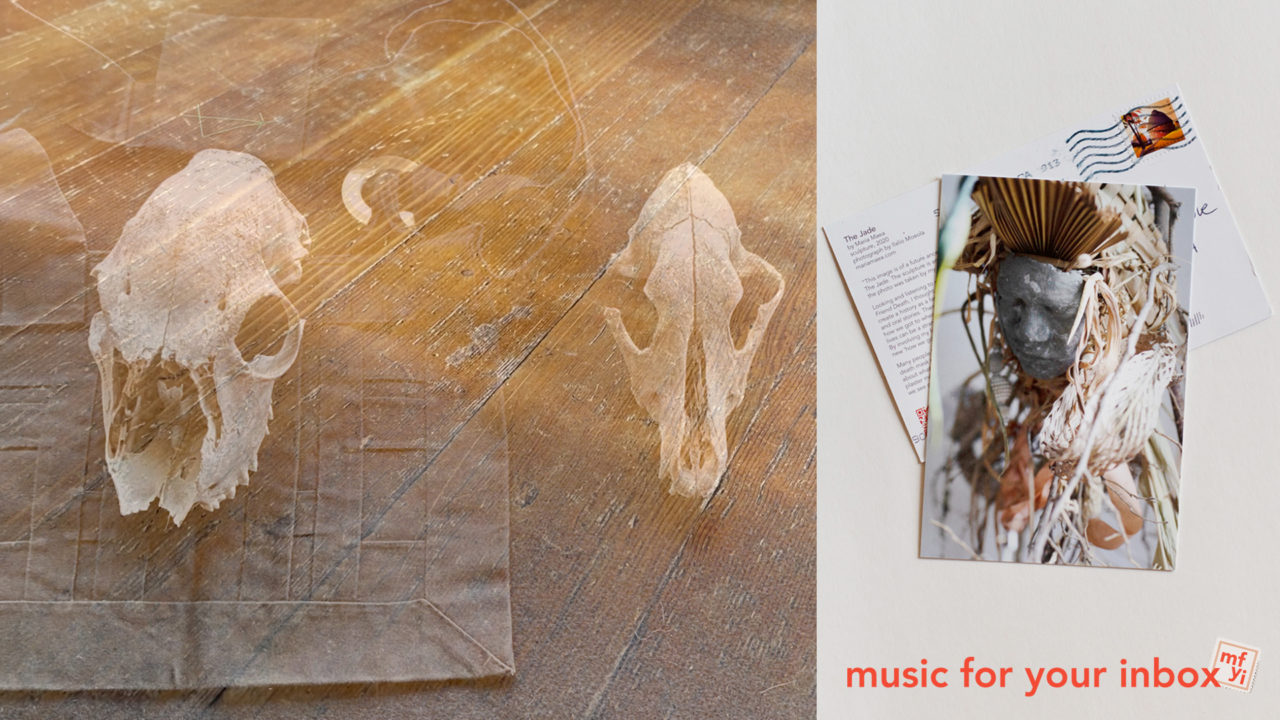 My Old Friend Death
My Old Friend Death paired a music composition by Nat Evans with visual art by Maria Maea for the March 2022 installation of Music for Your Inbox's monthly music and art series.
Nat Evan's composition was presented as a 15-minute music film called "My Old Friend Death." In it, Nat explores death by linking death from the pandemic, his Buddist religious views on death, his family's historical contributions to ecological degradation in the Midwest due to unsustainable farming practices, and the modern-day climate crisis. The music features Lori Goldston (cello) and Will Hayes (guitar) with percussion, electronics, speaking, and field recordings by Nat. The film features imagery from nature, symbols of death, historical images from the Dust Bowl, and photographs from Nat's midwest family archives.
Maria Maea's visual art is an ancestor sculpture called "The Jade" made from dried plant material and a plaster death mask of her cousin's face. In making the sculpture, Maria reflected on the way we create community histories through images, video, written and oral stories, and how the act of preserving our lives can be a strange, mysterious gift to future generations. As a Samoan-Mexican American straddling different layers of identity, Maria's work (in her own words) "operates as an illumination on the brown body's function as capitalist commodity and survival as immigrants and first-generation Americans." Her piece was photographed then printed on postcard and mailed to audience members.
This project, My Old Friend Death, explicitly confronted death and grief. This work is extremely important because unprocessed grief can lead to numbness, overwhelm, avoidance, and a host of other negative states of being. This emotional immobilization is especially dangerous around climate change, as we collectively grieve ongoing losses caused by the climate crisis and also need to take urgent action to stop further climate damage. My Old Friend Death gave our audience the opportunity to grieve, move through their emotions, and come closer to healing so that they can take action to protect our planet's future.
The music film was sent to an audience of 127 households and the visual art was mailed to 75 households. Our worldwide audience members, including those who live in areas underserved by the fine arts or who have disabilities that make it difficult for them to attend live events, were able to safely enjoy the music and visual art at home regardless of their health or vaccination status. The music film is permanently available online for ticket holders to watch multiple times on-demand.