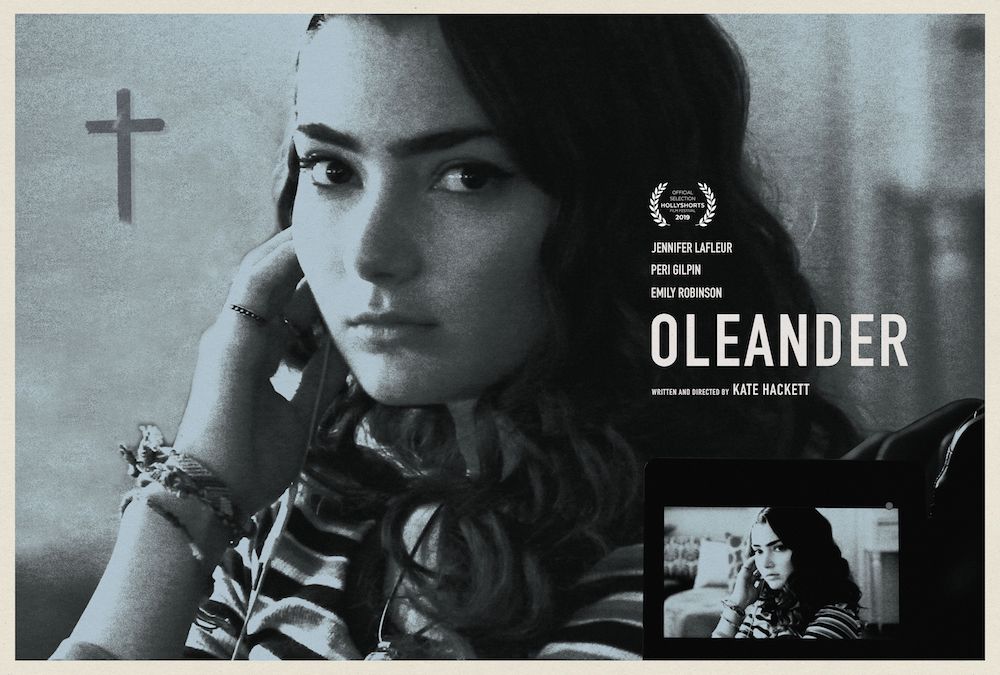 Oleander
"Oleander" is a short film proof-of-concept for "Purify My Heart", a feature film in development with a screenplay that was an American Zoetrope finalist. 
"Oleander" premiered at the Oscar-qualifying HollyShorts Film Festival in 2019. It was subsequently selected for The Method Fest in Los Angeles, which honors exceptional actor performances, and the Oscar-qualifying Athens International Film and Video Festival. 
Writer / director Kate Hackett is also an editor, known for her work on Netflix's documentary series "Cheer", Netflix's Emmy nominated documentary series "Last Chance U", and the Sundance and SXSW documentary "Half the Picture." She was the 2018 Sundance Institute Sally Menke Fellow. As a director, she has created many art films for live concerts, including the concert experience "Portals", which premiered a new work by Philip Glass and featured violinist Tim Fain. She has been a resident artist at Yaddo and Kaneko Experimental Studios. 
Director's Statement:
My inspirations for this short were twofold. First, I wanted to write about my own experiences with abstinence education as a pre-teen, which held an emotionally destructive power over my psyche as I came into my own as a young woman. Second, I've become fascinated by the way in which we now fight our most crucial cultural battles on social media platforms. For a young woman in the internet era, coming of age sexually also involves having to choose a side in this overwhelming online discourse over whether her sexual life should be suppressed or celebrated. My protagonist, Oleander, is a hero because she fights through the noise to speak her authentic truth. 
This film was proudly made with 65% women in the cast and crew.