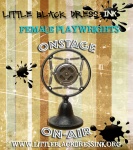 ONSTAGE: ON-AIR
ONSTAGE: ON-AIR is a unique online production which aims increase outreach for female playwrights, bringing their work to life on air and increasing audience connectivity. Only so many bodies will fit into a theatre – but a podcast can be streamed anywhere!
Like our new play festival, the ONSTAGE: ON-AIR podcast presents works by female playwrights. Unlike our festival productions, plays are produced in studio, complete with foley artist, and presented free via podcast to an expanded audience.
The podcast is presented in conjunction with LBDI's ONSTAGE Project, which features nation-wide readings and productions of new short plays, annually.
Project Goals
The goals of the ONSTAGE: ON-AIR podcast are as follows:
To present plays by women world-wide by introducing and connecting these female playwrights to new and expanded audiences through on-air, radio-style theater utilizing the global online capabilities of internet podcasts.
To strengthen the female playwright network, connecting artists with one another and building internal support amongst playwrights.
To connect artists with communities they are unable to reach via traditional theatre models.
To offer dramaturgical assistance to playwrights via a grounded, participatory development process.
To continue expanding the ONSTAGE network throughout the country via partnerships with producers and organizations in order create more avenues for productions.
To raise awareness of the need to give support, time, and donations to local and national nonprofits serving women and the community at large, and to continue to support these organizations through donations made from Little Black Dress INK event proceeds.
ONSTAGE: ON-AIR can be live-streamed or downloaded via Podomatic and iTunes