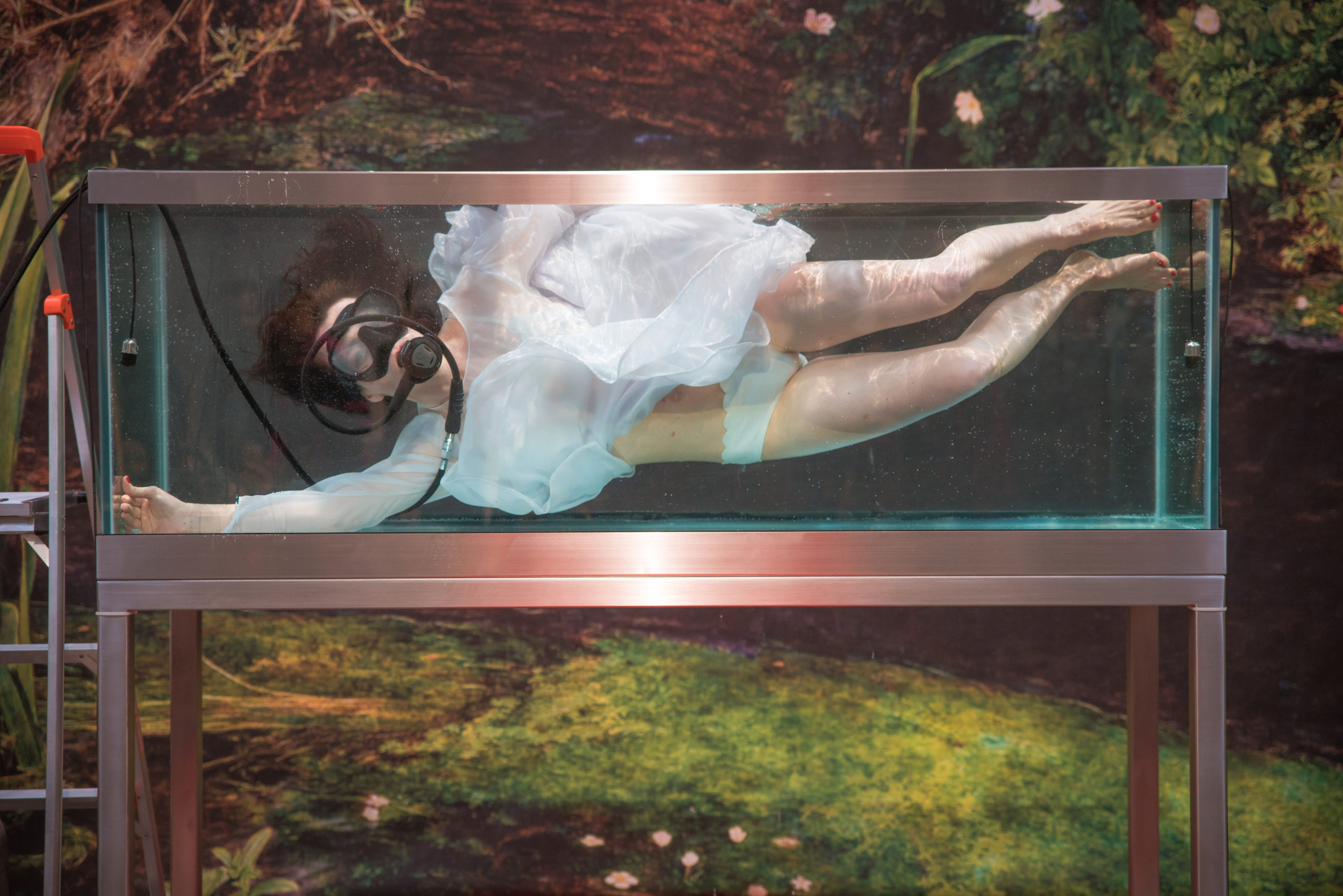 OPHELIA
OPHELIA is an architectural performance and video sculpture that draws from the Shakespearean character and Millais's homonymous painting (1851-52). Nadja Verena Marcin re-imagines this mythical character within the framework of gender inequality and climate change, by displaying the relationship between the destruction of the biosphere and the history of female hysteria and women's oppression. By invoking the historical icon of Ophelia, Marcin offers a contemporary feminist critical gaze to denounce the violence carried out for centuries on both women and nature.
Focusing on environmental concerns and human responsibility, OPHELIA is set within a positive architecture that engages audiences worldwide and was most recently on view at the museum Stadtgalerie Saarbrücken, now set to travel to the private collection Aliseo Art Project in Germany. Previous stations included CONTEXT Art Miami, San Francisco's Minnesota Street Project, and Fridman Gallery in New York.
Amidst the backdrop of a John Everett Millais painting, OPHELIA as performance features Marcin dressed as the Ophelia character along with a diving respirator, climbing into an aquarium-sarcophagus structure and attempting to read Daniil Kharm's text The Werld on human perception.
OPHELIA was first unveiled as a video-sculpture during Art Basel Miami Beach 2017 at CONTEXT Art Miami, highlighted both in  Artnet  and Hyperallergic top ten guides to Miami Art Week 2017. Awarded a Franklin Furnace Grant and supported by a  Kickstarter Campaign, the Goethe Institut San Francisco as well as Fundación Simón I. Patiño Santa Cruz, Nube Gallery, Puffin Foundation, and Kulturamt of Cologne, OPHELIA investigates the relationship between the human destruction of the biosphere and the history of female hysteria—while speaking to the democratizing power of the meme. Please take a look at the Kickstarter Campaign to hear the artist speak about the scope of the work.
In 2018, the West Coast premiere of  Nadja  Verena Marcin's OPHELIA was met with an enthusiastic audience response at San Francisco's Minnesota Street Project, highlighted both in  Charles Demarais  San Francisco Chronicle  feature, Ophelia  returns after 400 years with a new message,  and  Anna Volpicelli's feature in  CULTURED Magazine, Nadja  Verena Marcin's  Ophelia  goes on a World Tour:  "Ophelia  nowadays is an advocate for disassembling power structures that mislead us and the interior of humankind," says Marcin. "The performance specifically focuses on climate change and gender inequalities and draws a comparison and/or connection between the two. To me,  Ophelia  is a symbol for the oppression of our emotional and instinctive world, our knowledge and skills that are inherent and basic to humanity."
For the solo  museum show at  SCHAUWERK Sindelfingen from Feb-Jun 2019,  the SWR television contributed the feature  Kunscht! – Die Performance Ophelia in Schauwerk Sindelfingen. In April 2019, OPHELIA  was presented at the Queer-feminist Ecocriticism in Live Art & Visual Cultures at Queen Mary University in London. Prior, in 2018, the European premiere took place at Moltkerei Werkstatt e.V.  in Cologne as part of the  DC Open Gallery Weekend,  supported by Kulturamt of Cologne. Afterward, it was exhibited as site-specific video-installation at Nube Gallery in Santa Cruz, Bolivia from Oct-Dec 2018,  accompanied by a workshop at  Centro Cultural Simón I. Patiño Santa Cruz  and a Masterclass at Faculty of Arts of the State University  UAGRM. Most recently, it was on view as an institutional solo show at Stadtgalerie Saarbrücken and is scheduled to be shown at the private collection ALISEO projects in the fall of 2020.
The project is situated in the midst of our current socio-eco-political discourse and its relation to minorities and unheard voices, as well as its disrespect for the land that nourishes our life – affecting the world globally. OPHELIA's global tour continues, providing international communities with the powerful impact it has proven thus far.
For more info, please contact Nadja Verena Marcin, .