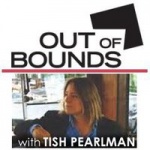 Out of Bounds Radio Show
Out of Bounds was created, and is produced and hosted by Tish Pearlman, a broadcast journalist originally from California and now based in Ithaca, NY. The technical producer is Nate Silas Richardson of Rep Studio, also in Ithaca. The show features interviews with visionaries: people living, working and thinking outside the mainstream. It is the only locally produced public affairs/Arts interview show that features in-depth, thoughtful, and educational conversations with local, regional and national guests. The show has featured conversations on such diverse subjects as racism, breast cancer, domestic violence, how to inspire young people, current social and political issues, medicine, nutrition, voting, lesbian and gay concerns, classical and popular music, theatre, science, sports, journalism, food, communication, and much more. The show also features many live musical performances and poetry readings.
The fiscal sponsor for Out of Bounds is New York Foundation for the Arts.
In June 2008, Out of Bounds was awarded "Best Public Affairs Program Series" by the New York State Broadcasters Association.