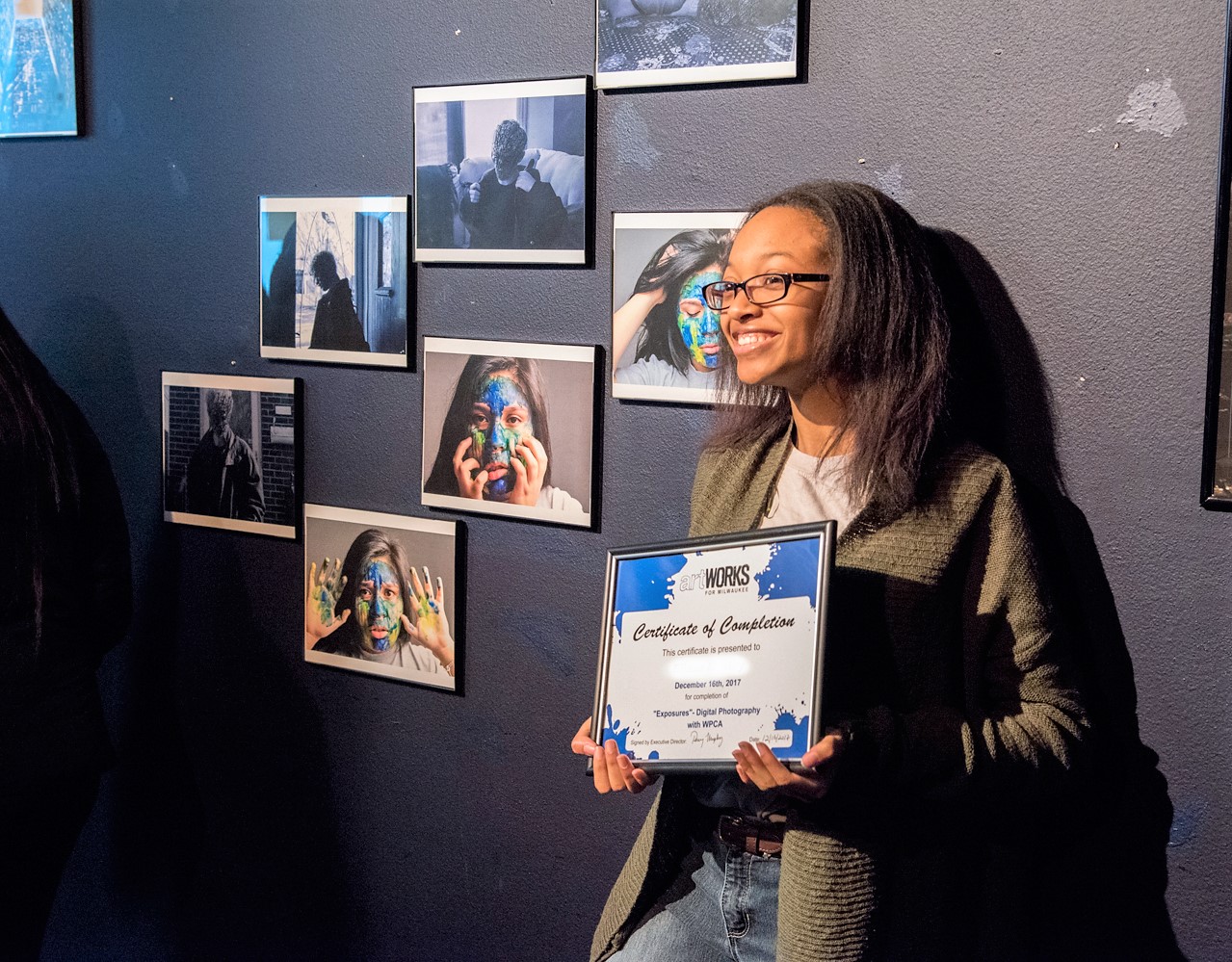 Paid, art and skill-building internships for teens
Support from the Puffin Foundation helped ArtWorks hire 34 teens from 20 high schools in Milwaukee for internships that allowed them to explore themselves, the arts, and their community while developing 21st century career skills. These skills, which include communication, collaboration, creativity, innovation, and problem solving, will serve them well throughout their lifetime.  
Working with partners across Milwaukee, ArtWorks' internships gave high school students a broad range of  paid arts and skill-building experience:   
Multimedia Storytelling with Walker's Point Center for the Arts:

 Interns learned basic video and photography techniques which allowed them to share personal narratives through thoughtful compositions, rhythmic patterns, and juxtaposed visual relationships.
MOVE with Express Yourself Milwaukee:

 

ArtWorks' interns worked as a youth leadership team at Express Yourself Milwaukee where they mentored other youth in weekly drop-in art sessions, facilitated monthly open mics, and supported and performed in the organization's annual, performing arts showcase. 

Tricklebee Cafe: 

At Milwaukee's only pay-what-you-can cafe, interns immersed themselves in the culinary arts, learning how to make healthy and delicious meals with locally sourced ingredients. They learned about customer service and the food safety requirements when working in a commercial kitchen. They also planned, promoted, and hosted creativity nights and a food drive to engage community members. 
Art Works for You: 

A small group of teens who completed an Artworks' internship graduated into this year-long program which has an entrepreneurial focus.  Interns researched topics that interested them, created t-shirt designs based on these topics, and sold them online and at community markets.
All of our interns participated in a career coaching day at ManpowerGroup where they created a new resume, learned how to interview for a job, and explored personal branding and careers.  
Through the formal end-of-internship evaluation, nearly 100% of interns engaged in fall 2017 agreed or strongly agreed that the internship helped them increase their belief that they could make a difference in the community, helped them gain skills in identifying and understanding problems, and made them feel more confident in their future aspirations.  
The impact we had on the teens in 2017 exemplifies ArtWorks' commitment to youth development, which is reflected in our current programming as well.