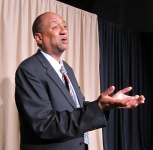 Paul Robeson Through His Words and Music
PAUL ROBESON THROUGH HIS WORDS AND MUSIC is an interweaving of two dozen songs that were sung by Robeson, with a narrative of his life as an actor, singer, activist, and humanitarian. Length is 45-80 minutes, with songs and verses added or eliminated, depending on desired length. This is a one-man show not requiring accompaniment since Derrick McQueen sings a cappella beautifully. An after-show Q&A may be requested.
PAUL ROBESON THROUGH HIS WORDS AND MUSIC is one of East Lynne Theater Company's (ELTC) popular touring shows. Artistic director/playwright Gayle Stahlhuth received a commission from Theaterworks/USA to write the piece for Don Oliver who toured the show the 1980s. Derrick McQueen first performed it for ELTC in Cape May in 2000 with funding procured from The NJ Council for the Humanities. Audiences requested its return, and in 2006 and 2010, it played for four performances each year, in front of enthusiastic patrons. Since 2000, ROBESON has performed in a variety of settings including libraries and churches in NJ and NY with funding help from The Puffin Foundation, the Wildwood Convention Center for an NAACP fundraiser, The Union Theological Seminary in Manhattan, North Carolina Stage Company in Asheville as a fundraiser for Homeward Bound, and at the NJPAC in Newark through funding from NJ Theatre Alliance.
PAUL ROBESON (1898-1976), a scholar, athlete, performer, and activist, was born in Princeton, NJ, the son of Rev. William Robeson, a former slave. At Rutgers, he was a twelve-letter athlete who graduated valedictorian in 1919. While in NYC at Columbia, he came in contact with people in the theater, which led to leads in plays written by Eugene O'Neill, and a career on stage and in film. His theatrical and concert tours took him to England, Ireland, Germany, Russia, and France. He believed in the universality of music and that by performing African-American spirituals and other cultures' folk songs, he could promote intercultural understanding