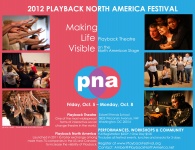 Playback Theatre Festival 2012
October 5-8 2012, D.C, the Playback Theatre Festival "Making Life Visible" convened 150 performing artists from 39 troupes, featured 40 workshops on social impact and artistry, and offered community plenaries, 5 public theatre performances, (including Friendly Rewinders, a youth troupe from Sidwell Friends School), and a dance presentation from Oglala Lakota Tribe. Many audience members learned about Playback for the first time.
In a Playback Theatre experience, volunteers from the audience share stories of significant moments from their lives. Playback actors then turn what they heard into instant theater, using movement, music and dialogue.
The heart of Playback Theatre is people deeply hearing the stories told by ordinary people about their lives and bringing these alive through theatre created in the moment. As one audience member said, "We get to see real human beings tell real stories, and then see them transformed authentically into art before our eyes."
The event helped provide new exposure to Playback, welcoming not only the public but also NGOs and local community organizations to learn about the social change power of Playback Theatre.
Practitioners from across the continent, the founder of Playback Theatre, company leaders, youth artists, and people new to playback, engaged and shared about the artistry of Playback, youth and playback, ways to honor stories of race and culture and how to strengthen troupes and using this work for social impact.
The Festival was organized by a collaborative team from Playback North America a membership network open to all who are interested in learning more about this art form. Playback North America (PNA) stands to help Playback realize more of its tremendous potential in North America for honoring unheard voices and making visible the lives, struggles and human spirit of all.
Additional Websites: www.artsrising.net, www.playbacknorhamerica.net