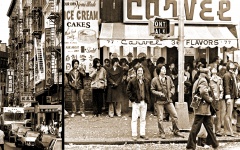 Portraits of New York Chinatown
Portraits of NY Chinatown is a collaborative oral history and mixed media installation that is currently on view at the Museum of Chinese in America from Dec. 13, 2013 – April 13, 2014. Led by artist Tomie Arai, the project engaged Chinatown residents and stakeholders in a dialogue about the past, present and future of their community. Central to these conversations were the ever-present concerns of gentrification and displacement. Over 37 interviews were conducted with students, community leaders, small business owners, garment and restaurant workers and long-time residents to create a composite portrait of this historic NY neighborhood.
Arai's collaborative portrait of Chinatown continues her material investigations into printmaking, while synthesizing her interests in social history, memory and community. Acknowledging the challenges of creating a portrait of the community that is both truthful and cohesive, the artist remaps Chinatown as a shifting neighborhood whose streets and avenues cross and recross imaginary boundaries. Starting with the Chinatown Core—the 6 or 7 blocks referred to historically as the Five Points (and once home for poor European immigrants at the turn of the century), Arai constructs a narrative of overlapping spaces and histories. In her bird's eye view of Chinatown, the artists telescopes back and forth from 'portraits in place' to a fractured grid that suggests that change is an inevitable part of the New York cityscape.
Also included in this exhibition are objects from the interview subjects' personal collections that represent stories about Chinatown. The memories embedded in these personal artifacts were folded into a visual display that reflect the changing face of this historic ethnic enclave over several generations. Through this important collaboration with MoCA, Portraits of NY Chinatown attempts to look beyond the streets and stereotypes and into the imaginations, memories and visions of the people who live and work ther
Additional Websites: http://www.mocanyc.org/exhibitions/portraits_of_new_york_chinatown, http://www.mocanyc.org/about/press/press_release/two_exhibitions_at_museum_of_chinese_in_america_moc