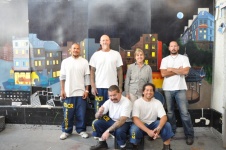 Prison Arts Project
Begun in 1977, WJA's Prison Arts Project is dedicated to providing arts instruction to incarcerated individuals in the belief that participation in the artistic process significantly and positively effects their view of themselves and the world around them.
There is inherent value in engaging in the artistic process. Art teaches a most basic form of self discipline and problem solving that comes from absorption in a specific task. The discipline acquired through participation in the arts translates to other aspects of an individual's life. It satisfies the human need for creativity, recognition, respect and pride. The quality of arts instruction received determines the degree to which these needs are met.
The vast majority of prisoners will return to our communities. Therefore, it behooves each of us to be concerned about the environment in which they live, and the programs in which they participate while they are incarcerated.
It is a profound experience to watch someone move from someone who has nothing to lose to someone who has something to give. I continue to be inspired by the experience of walking into a grey and dreary prison, through the clanking gates, past the racially segregated groupings on the yard and into the art studio where there is color and life, camaraderie, creativity and hope.