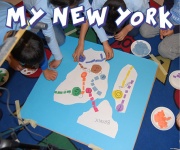 Puppetry in Practice Stop-Motion Animation Artist Residency
Puppetry in Practice's Stop-Motion Animation artist residency is one of the most-requested PiP programs in the NYC schools it serves. PiP embraces technology as an integral part of its innovation arts education programs. PiP provides students with the essential tools to bring their learning to life with fun and engaging animation techniques, while being immersed in curriculum studies.
Students use laptop computers and webcams, SAM Animation software and their imaginations to create high-quality animated shorts and features that they can share with their peers or broadcast to the world via social media. This residency develops creative problem solving, critical thinking, and communication and collaboration skills through hands-on learning with technology. Students work together in groups and discover it takes teamwork to succeed beyond their expectations.
The Stop-Motion Animation artist residency has been applied to the exploration of African, Chinese, Indian and Native American folktales; the landmarks and historical figures of New York City; poetry and other beloved acclaimed literature; and age-appropriate projects raising awareness and action to protect and respect the environment.
School teachers and administrators have marveled that after 10- to 20-week residencies immersing elementary, middle and high school students in the collaborative process of filmmaking, all levels of ability have been addressed and advanced. ELL and Special Education students thrive in the creative environment and new talents are often uncovered in this positive social emotional climate. For example, students possessing a variety of skill sets and learning abilities work in various capacities. These include writers and storyboarders, camera operators, directors, actors who lend their voices to the animators who move the characters, music and sound effects people and more. Critical thinking, problem solving, the ability to communicate with others are skills developed in the pr