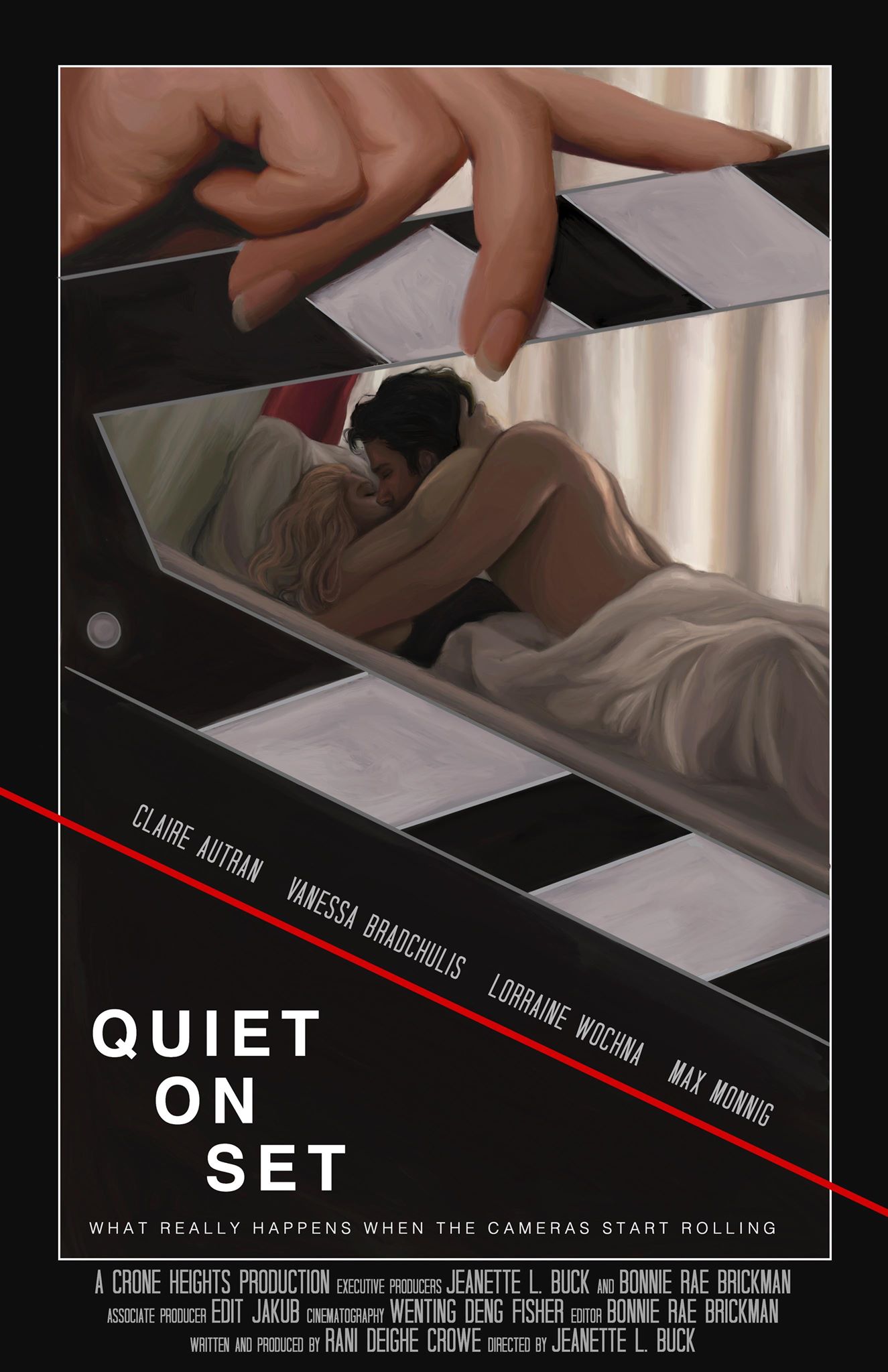 Quiet on Set, short film
Quiet on Set is an 8 minute short film about consent on a film set. It is the second short film by Crone Heights Productions, the product of Jeanette L. Buck, Rani Deighe Crowe and Bonnie Rae Brickman. Crone Heights' mission is to put more women in front of and behind the camera producing diverse stories that otherwise might not be told. Crone Heights previously made Heather Has Four Moms.
We filmed Quiet on Set in Athens, Ohio in July of 2019. We were able to complete pre-production and principle photography with support from Ball State University, Ohio University, Provincetown Women's Filmmaker Residency, and the Puffin Foundation.
Quiet on Set Synopsis: An actress assaulted on a film set during the filming of a sex scene,  must choose whether to pursue accusations or complete the film that could start her career.
Director Statement: Quiet on Set dissects the filming and consumption of a sex scene within a film where the lead actress has been violated during the shooting of the scene. Loosely inspired by the many stories that have surfaced during the #MeToo movement, Quiet on Set looks at the lines between performance and reality, consent and assault, violator and complicit witness. It also considers ethics in filmmaking, the response to accusations by victims of assault, conflict of contractual obligations, and distribution and consumption of on screen violation.
Crew includes: DirectorExecutive Producer- Jeanette L. Buck, Writer/ Producer- Rani Deighe Crowe, Director of Photography- Wenting Deng Fisher, Editor/Executive Producer- Bonnie Rae Brickman, Music- Elizabeth Ziff, Associate Producer- Edit Jakab, Costume Designer- Sara Keller, AD- Rianne Moody, Gaffer- Jacob Midkiff, AC- Bridget Anderson, 2nd AC- Kanat Omurbekov, Sound- Ying Ding, Boom- Nic Walli, Grips- Zeran Lei, Eve Zhao, Bailey Plumley, Script Supervisor- Blaize Hart, Set Dec- Bianca Malcolm, Intimacy Consultant- Rebecca Vernooy, PA- Raine DeDominici
Cast includes: Claire Autran, Vanessa Bradchulis, Lorraine Wochna, Max Monnig, Keiffer Erdmann, Seth Eggenschwiller, Caleb Crawford, Samuel Redfern, Joe Balding, Kari Willenbrink, Bailey Plumley,  and Justin Mash